For this project, we followed a double diamond structure to finish a UX design life cycle. We also iterated through the whole process. For example, we did three rounds of user testing.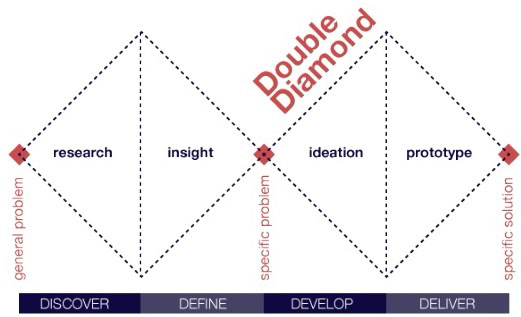 In previous generations, people grew up close to their neighbors, generating lifelong friendships. As technology and methods of communications evolve, society has seen a consistent trend of diminishing neighborhood interactions. It is no longer necessary to get to know the people around when there is a world of individuals at your fingertips.  According to the Pew Research Center, only 19% of people know their neighbors by name. As a result, theses neighborhoods
lack transparency and a sense of safety.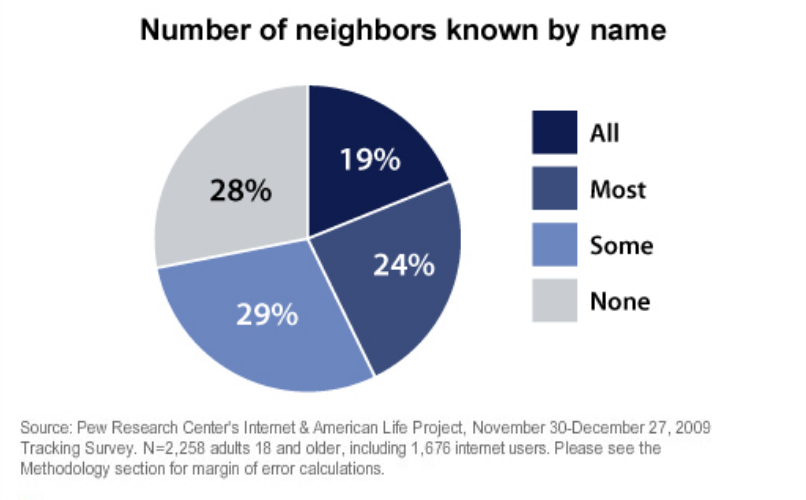 Therefore, we are passionate about designing a solution to
foster a stronger and safer neighborhood community
and
create a sense of belonging,
especially for those who may be less outgoing or no longer feel comfortable knocking on their neighbor's door for a friendly chat of even a small favor. The majority of people we spoke with admitted to not being familiar with their neighbors beyond infrequent small talk on the sidewalk if they happened to be outside at the same time. As such, neighbors don't have the opportunities to discover if they have similar interests with one another, which is crucial for creating relationships. This is a significant problem that deserves to be addressed in order to make one's house feel more like a home.
In order to solve the aforementioned problem, we created "Fenceless," a mobile application that aims to
promote interactions
to bring back the culture of tight-knit American communities. Users select their preferred activities, and based on them, "Fenceless" suggests events that may interest them. These events are based on location, so only people in the neighborhood may attend. After a user finds an event she is interested in, she can chat with her neighbors who also share interest to coordinate going together as a community. 
The first phase of our design process is user research. In this case, we conducted 5 
contextual interviews
and analyzed results to better understand intended users, and then created
affinity diagram
to categorize similar traits and pain points of users.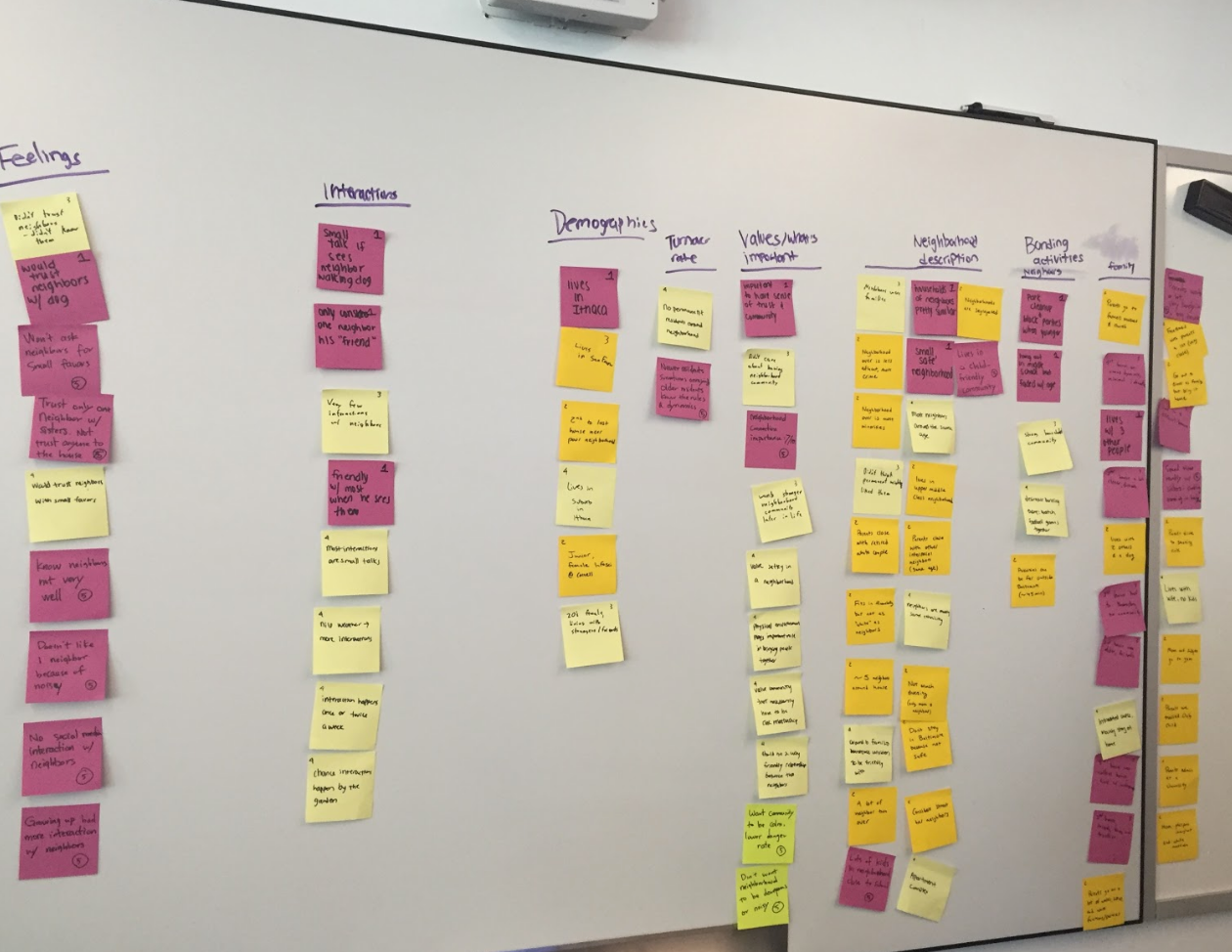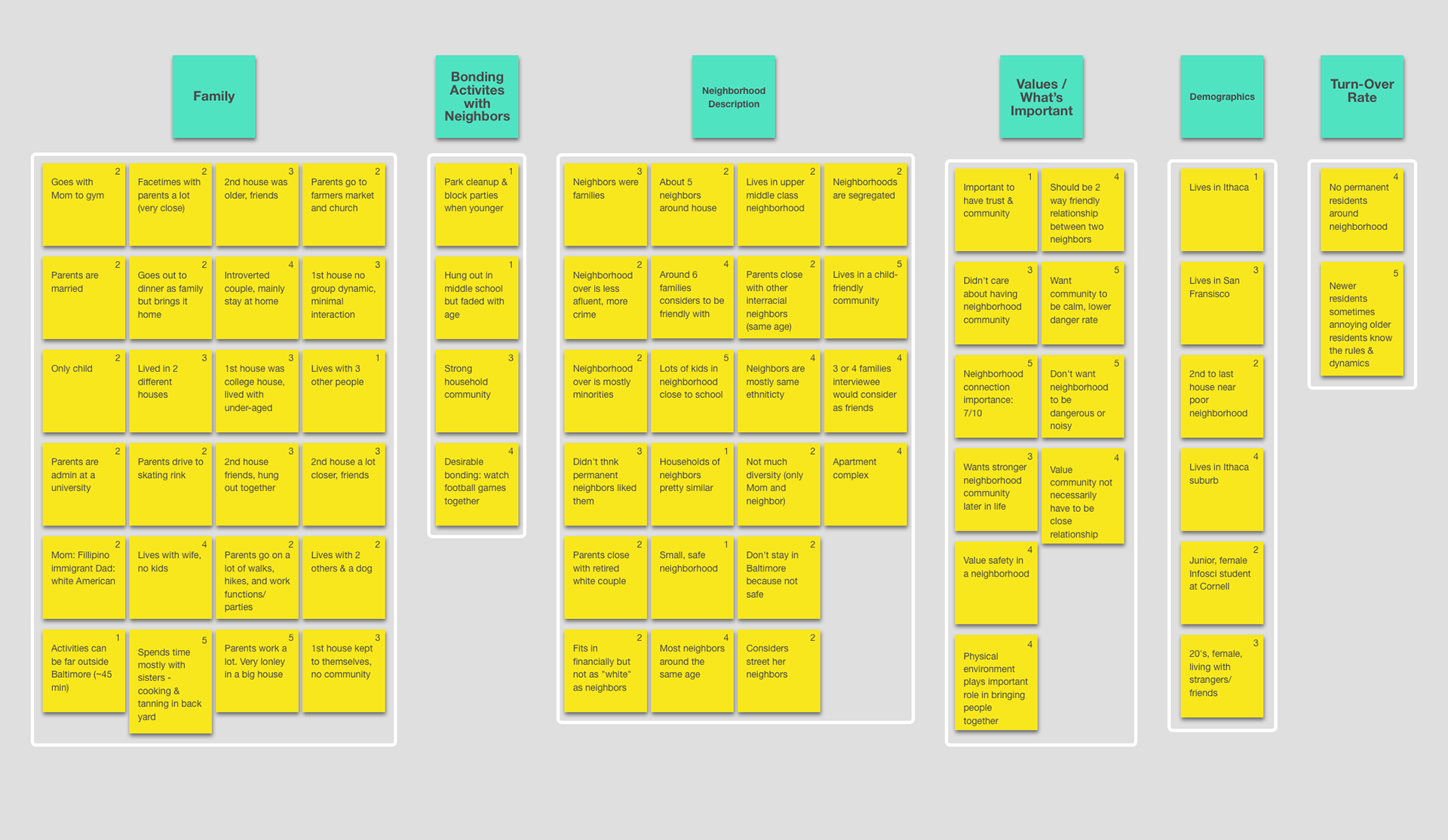 We were able to conclude the
findings
from the interview and card sorting. From our findings, we were able to develop three 
requirements
that we found integral to the creation of our application:
1. Increase frequency of interaction between neighbors.
2. Develop a sense of trust and belonging within the neighborhood.
3. Create a sense of understanding amongst neighbors despite cultural differences.
In this case, we created a
social model
 to demonstrate our findings. A social model captures the social aspects of an organization, showing social entities and influences among them.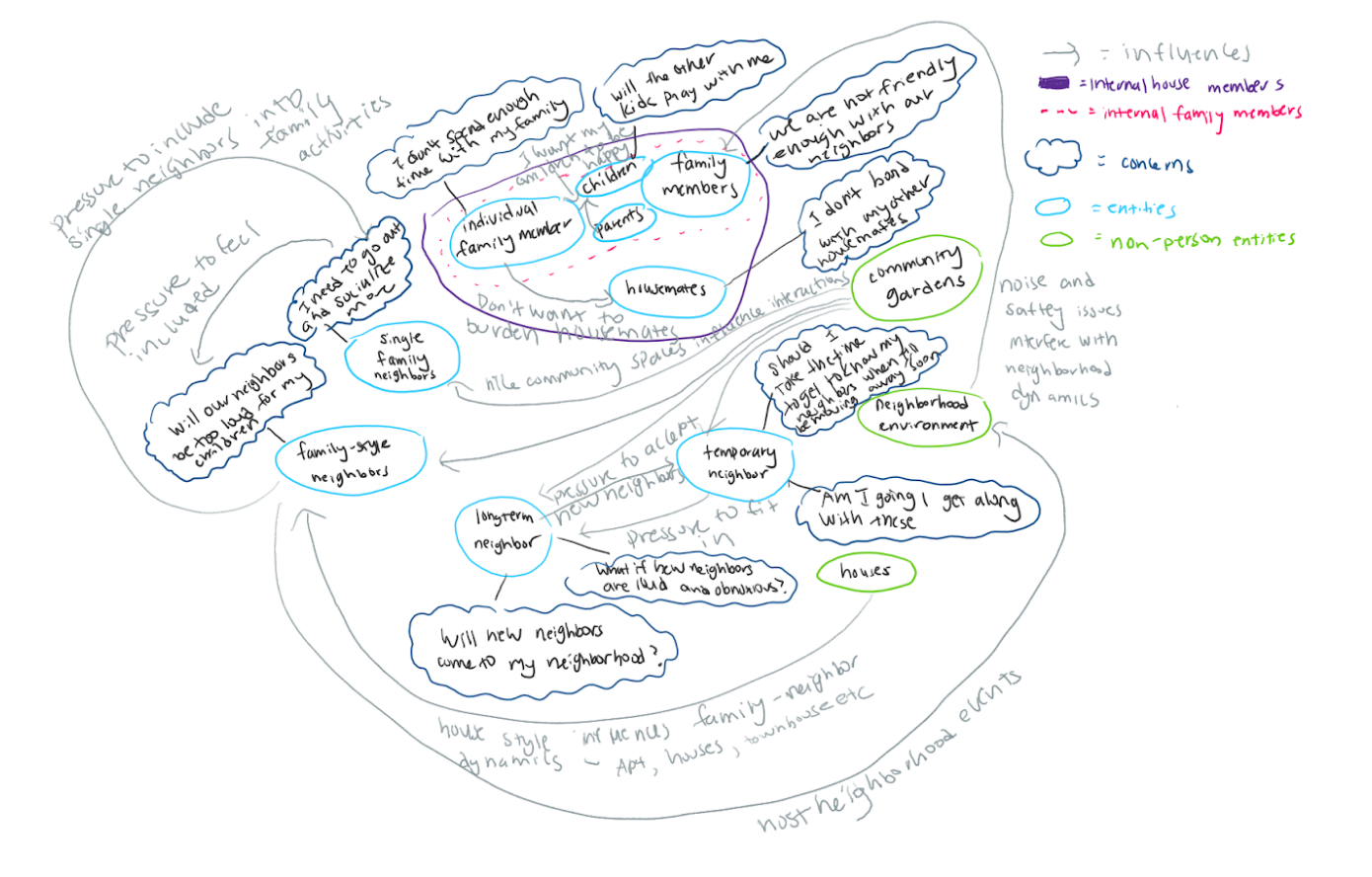 We started off by 
brainstorming
ideas. In this case, we each threw 20 ideas on the table. After the brainstorming session, we were able to develop our initial design concept, which is a mobile application that enables users to build relationships with their neighbors. Connecting neighbors with shared interests, the app helps facilitate group meet-ups by suggesting activities for neighbors to participate in together.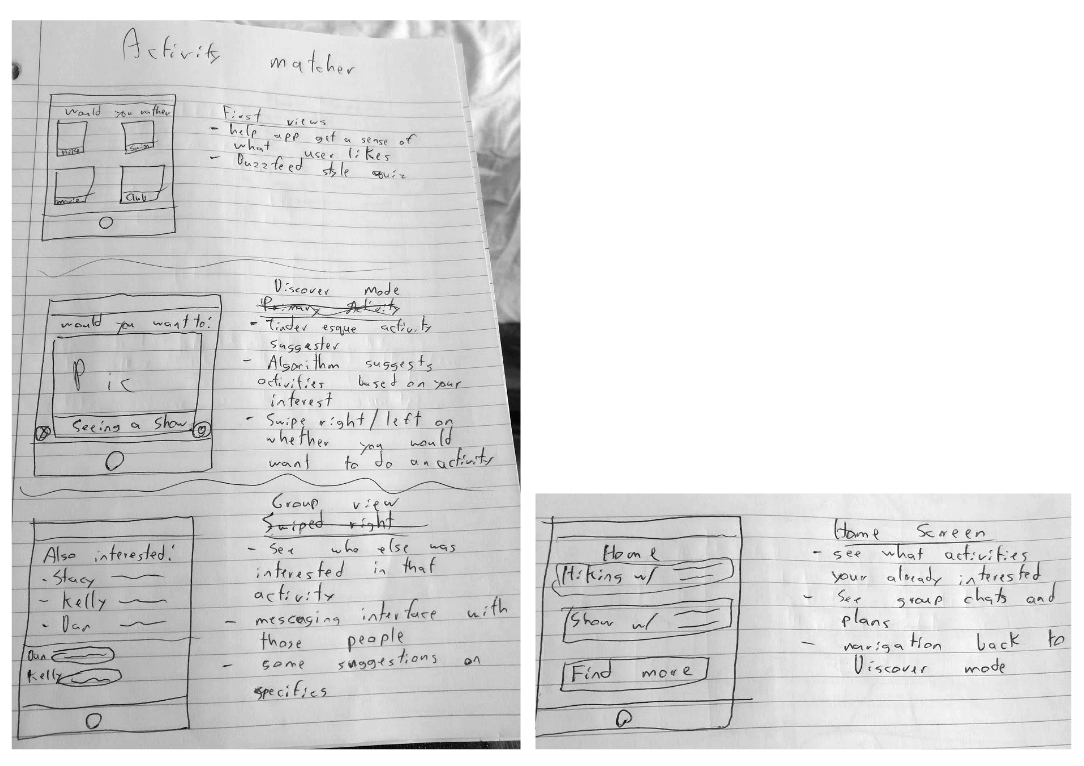 After that, we created
storyboards
that can help to visually predict and explore our users' experience with the application.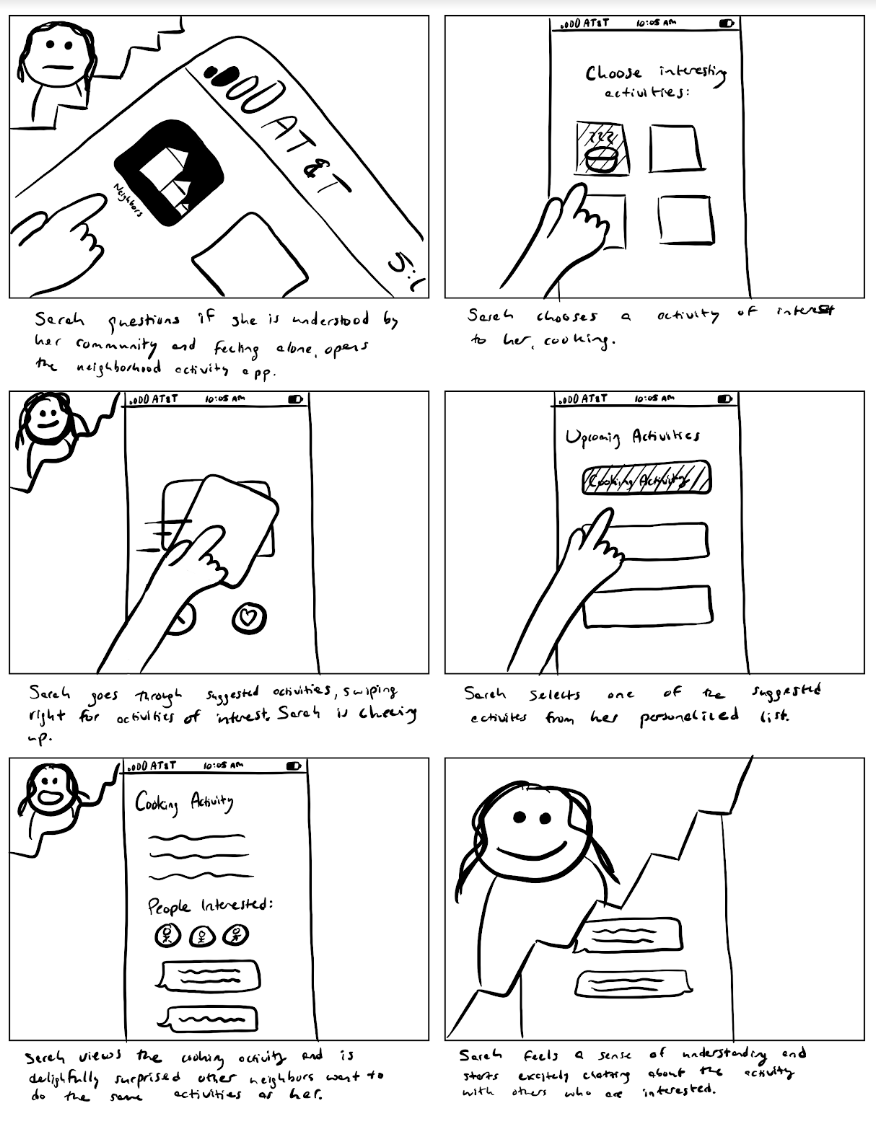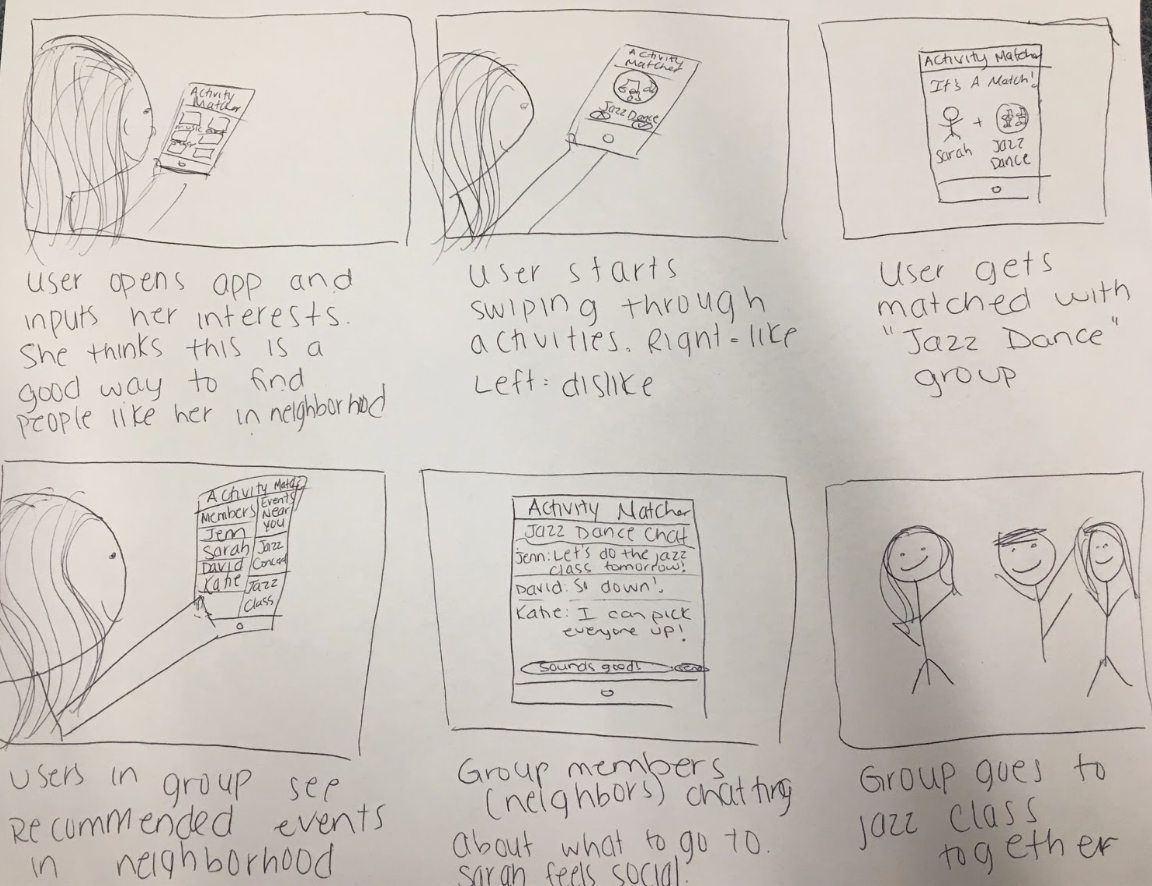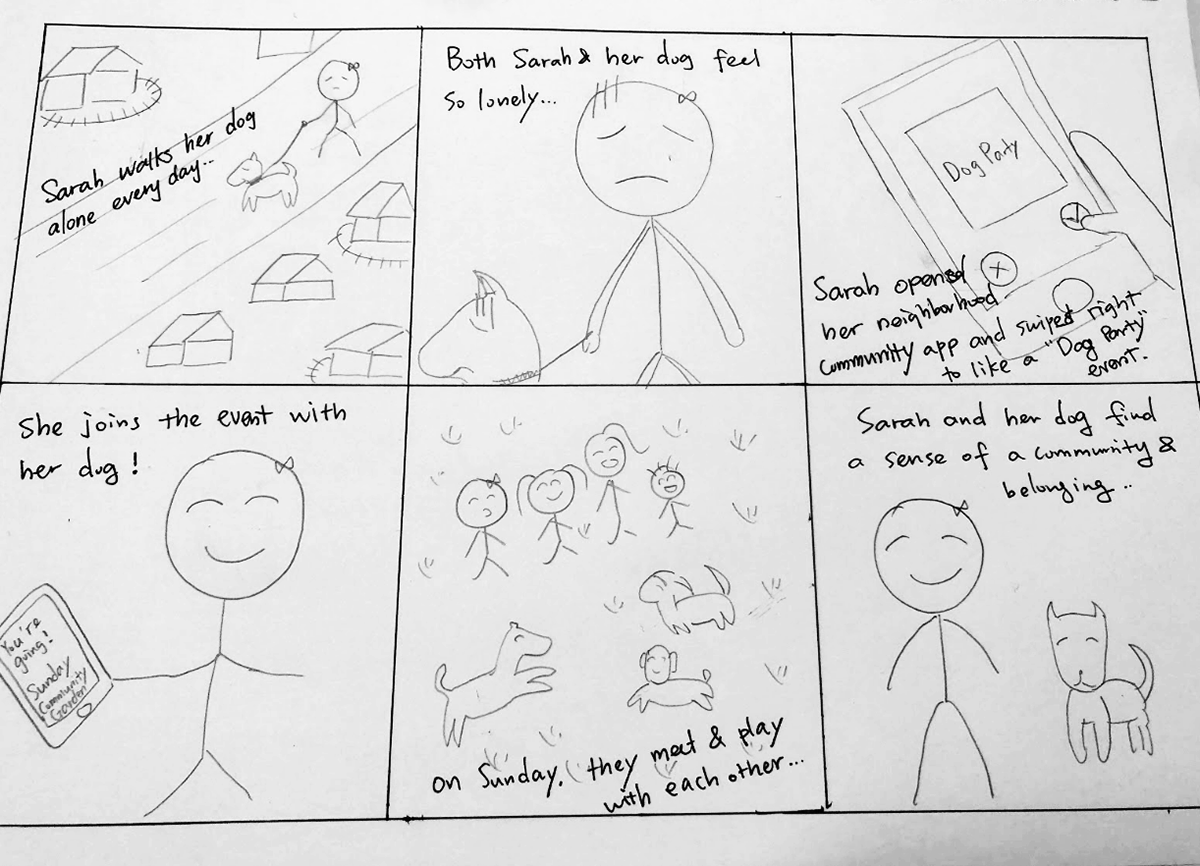 Development
Our final design concept is a mobile application that enables neighbors to meet up and connect with one another by participating in activities of shared interest. Users will use the app when they want to discover activities they can do with other community members they may or may not already know. Here is a video demonstrating how a user interacts with our paper prototype.
First round user evaluation
After finishing our paper prototype, we started the first round of
user testing
. In this phase, we asked 3 users to participate in the testing session and created a script for them to accomplish the preset tasks. From the user testing sessions, we gained new understanding of our users by knowing clearly what they like and dislike about the app and what their understanding and suggestion for the app are. The planned changes undertaken were adding home button to the main screen, allowing users to delete the activities they liked before, determining a minimum age for registering the app, allowing users to create activities, adding messaging function and researching more into safety issues.
After the first round of user evaluation, we started building a low-fi prototype using
Balsamiq
. This time we took into account all the inputs from the testing sessions and added all the planned changes from findings.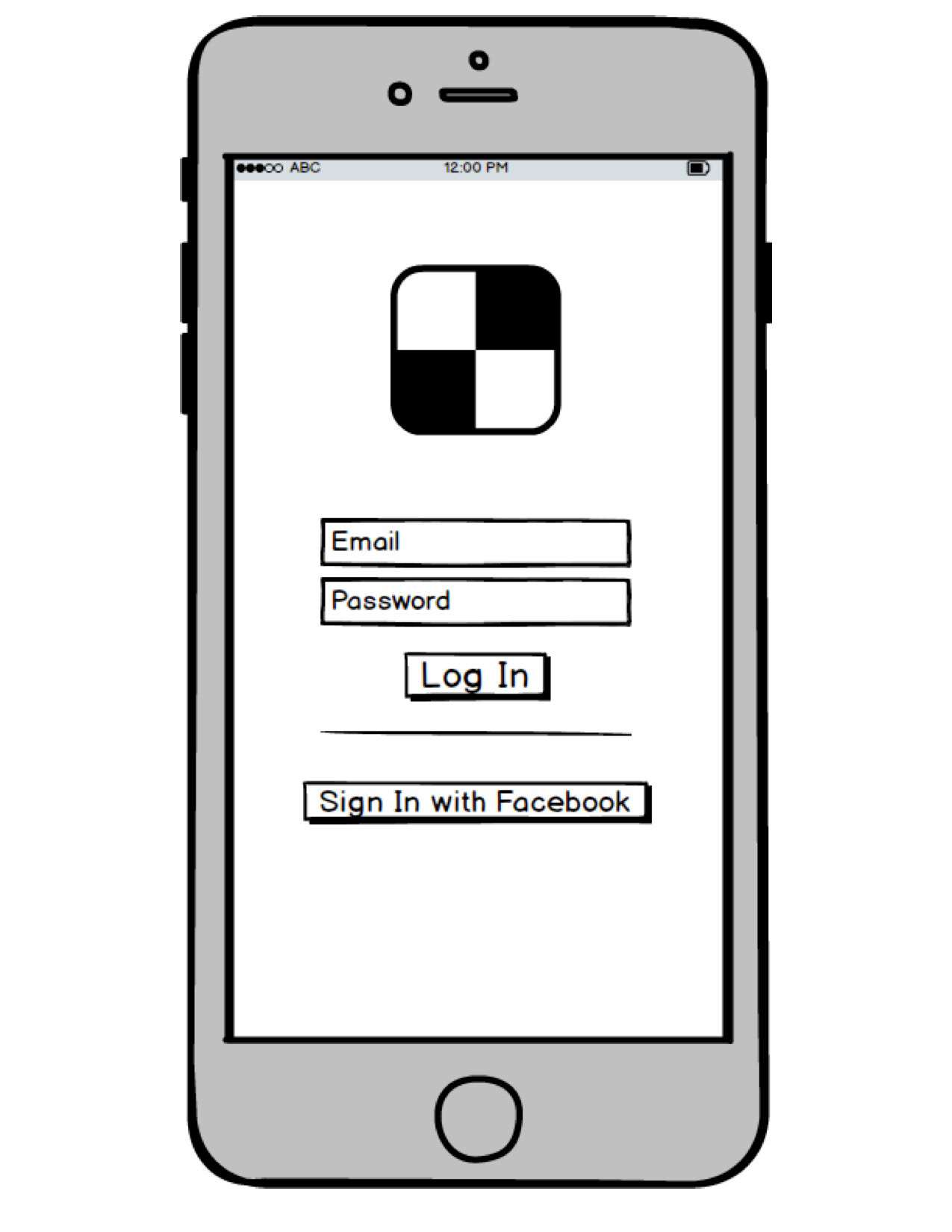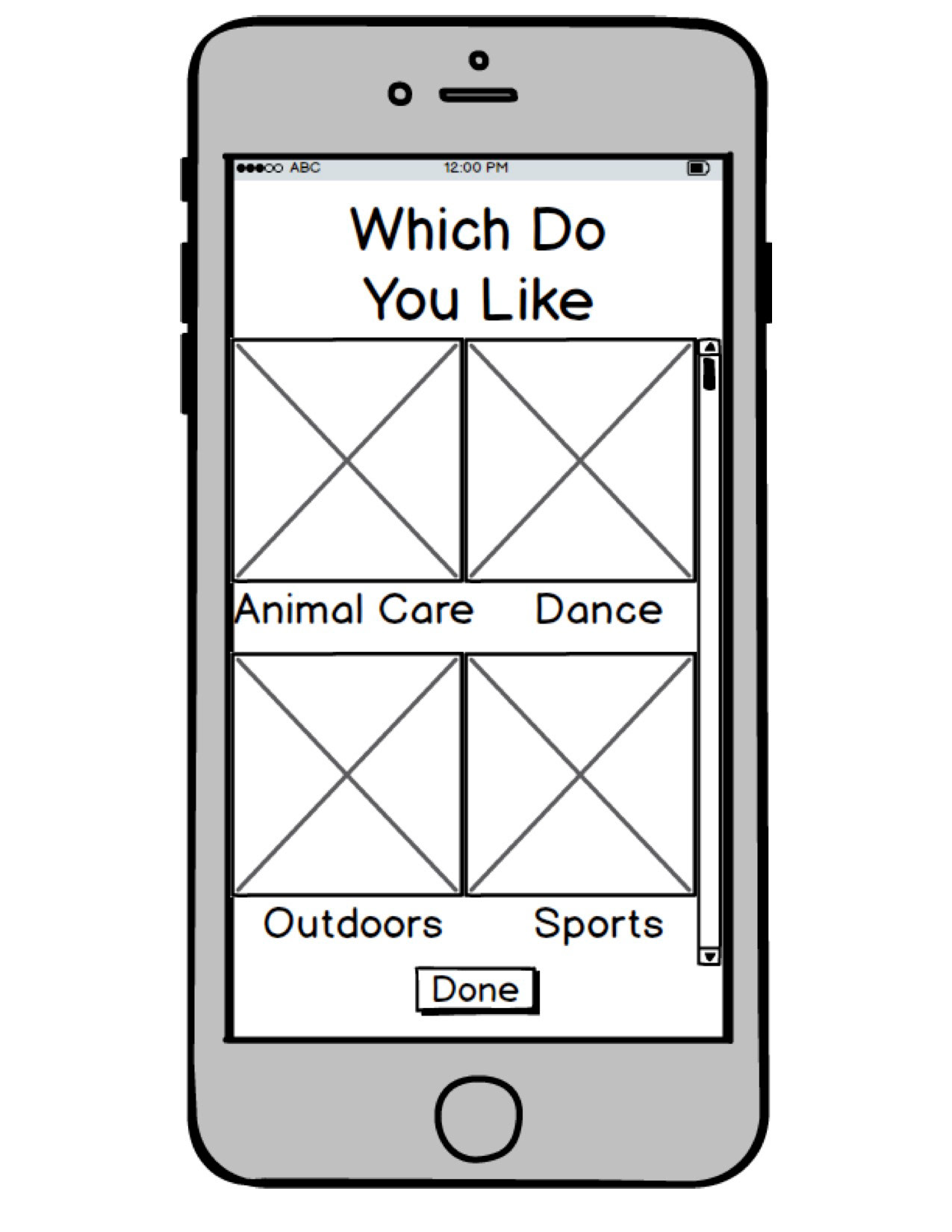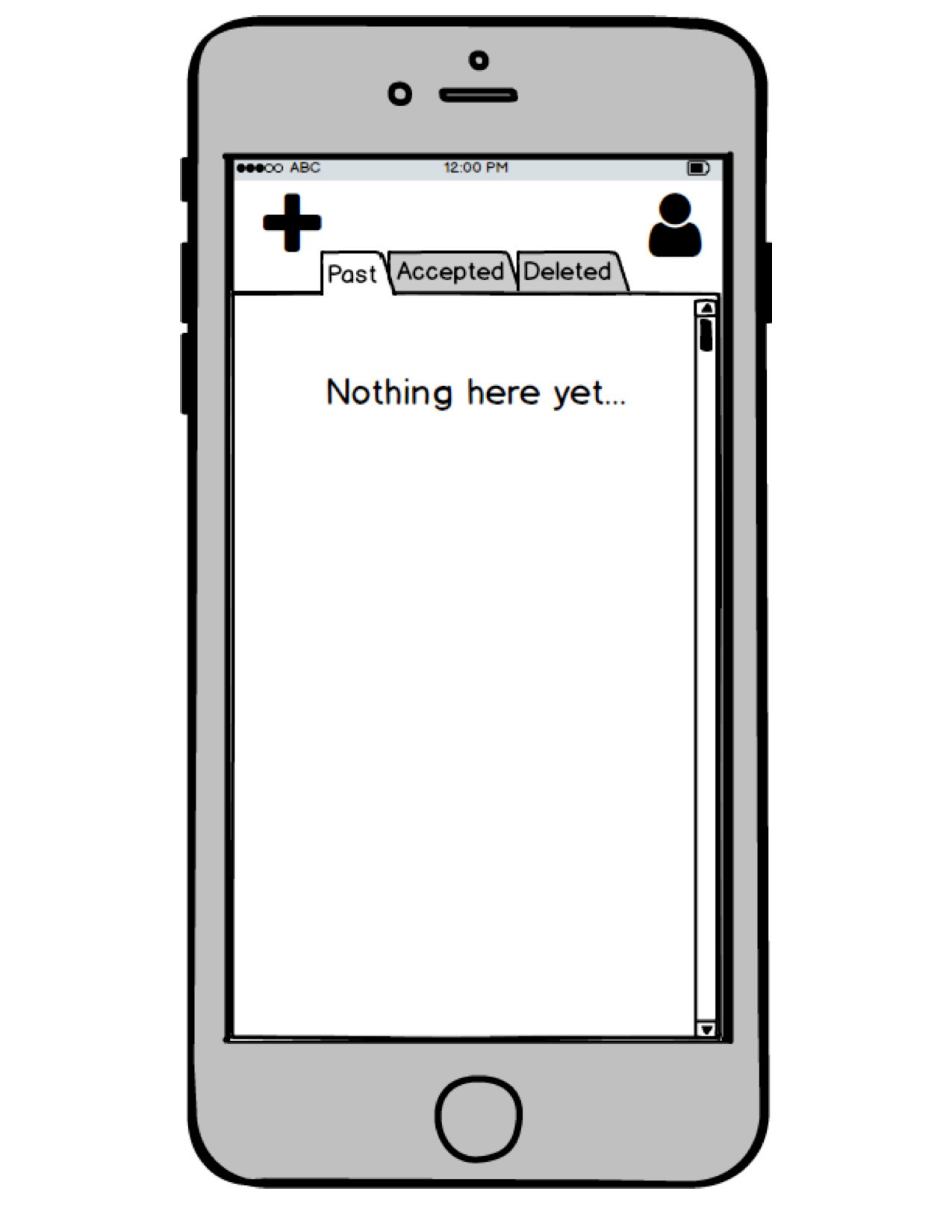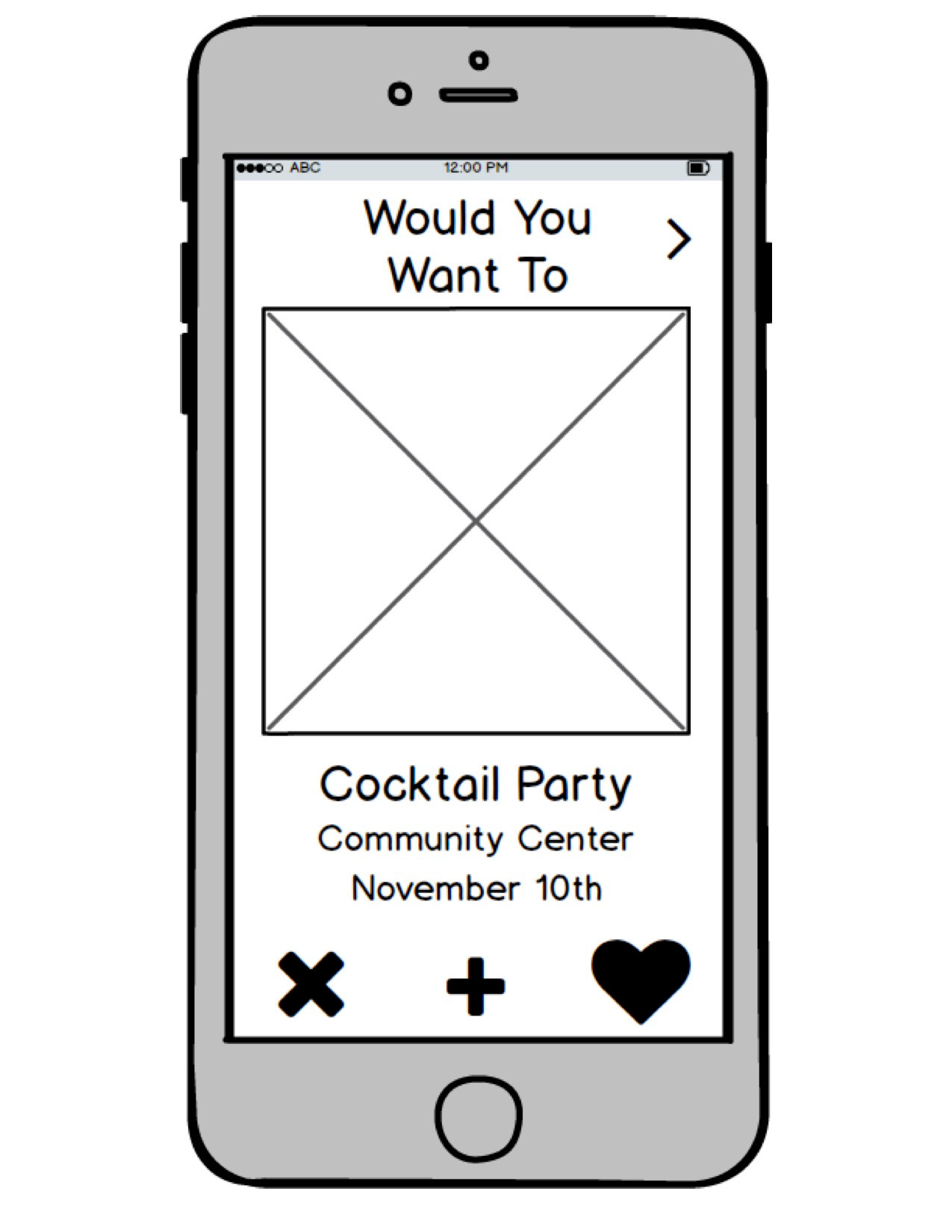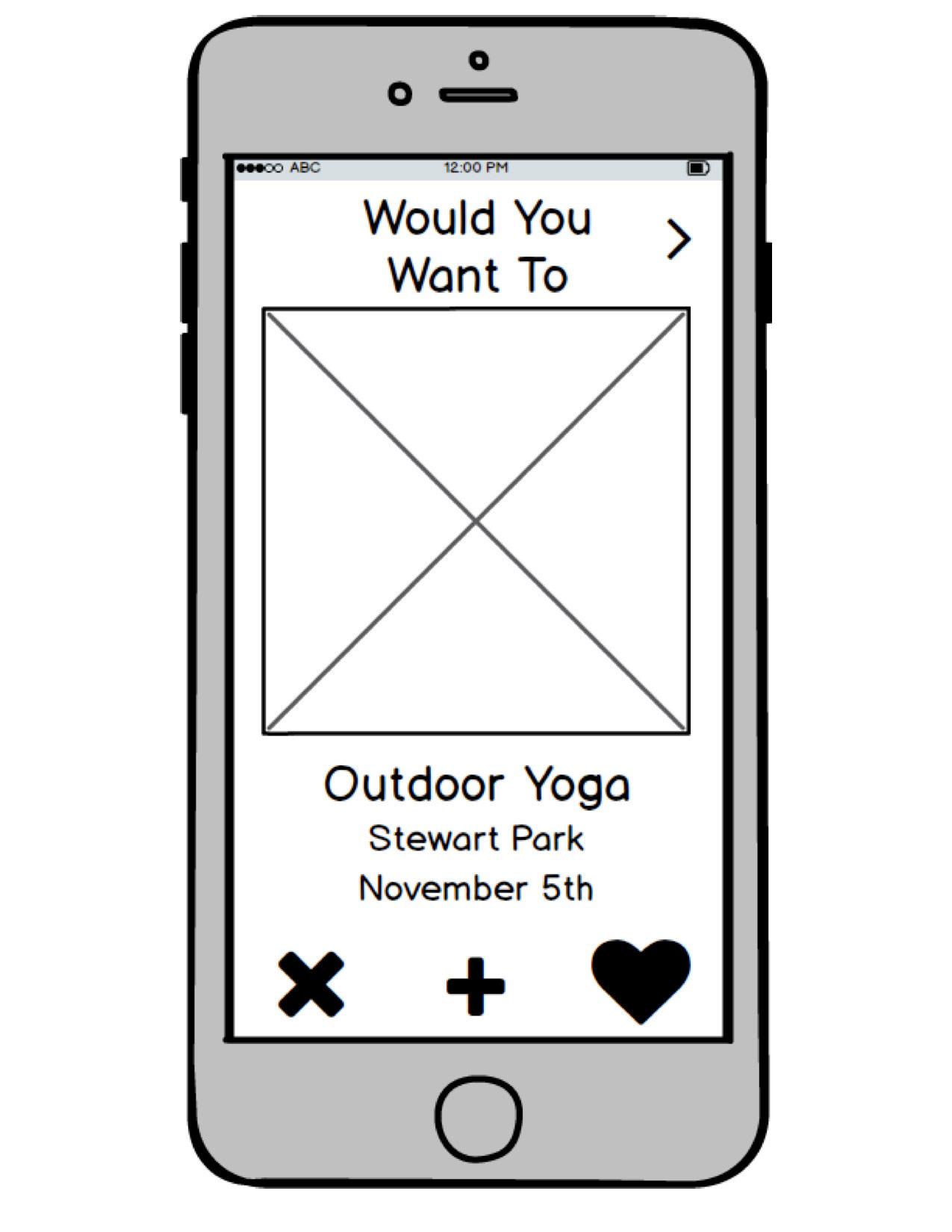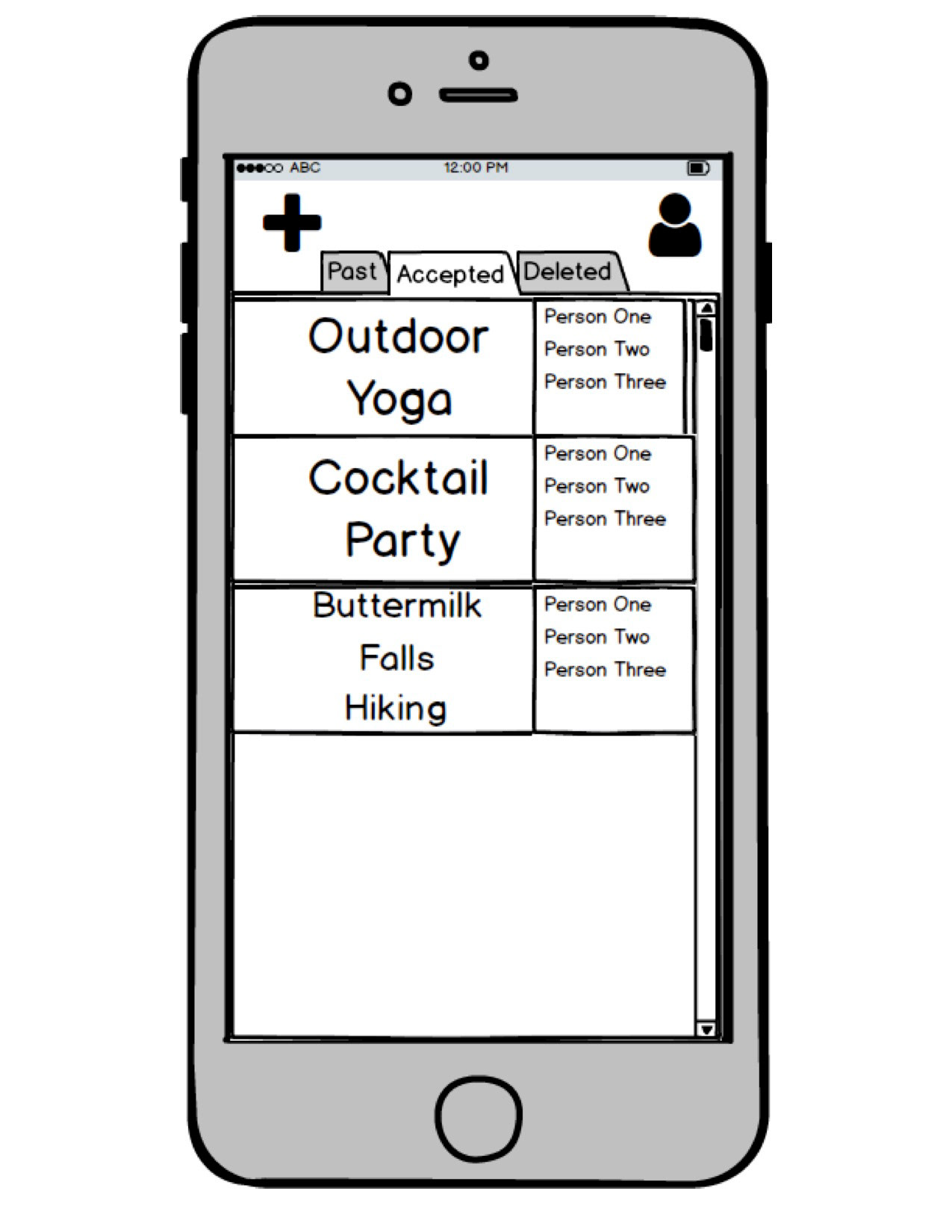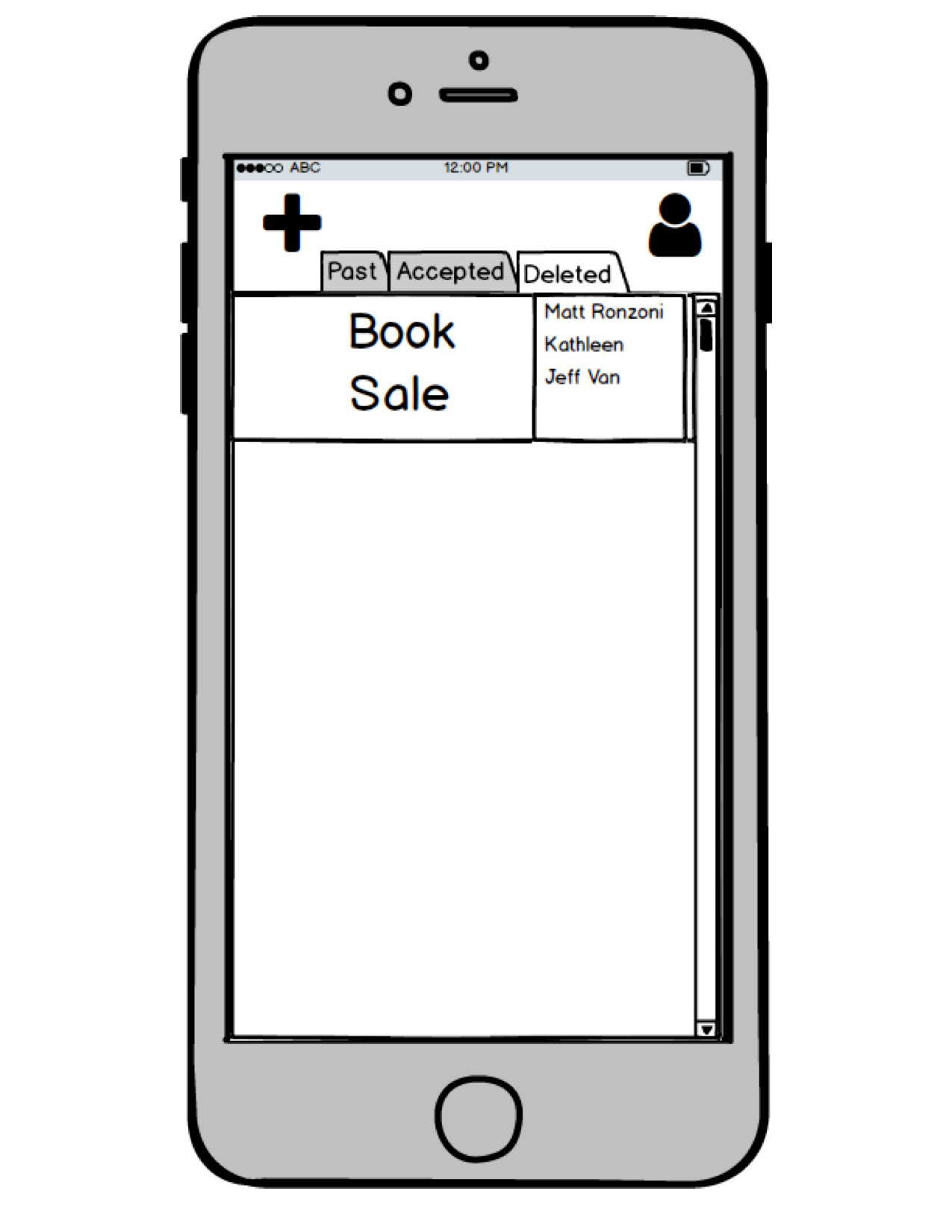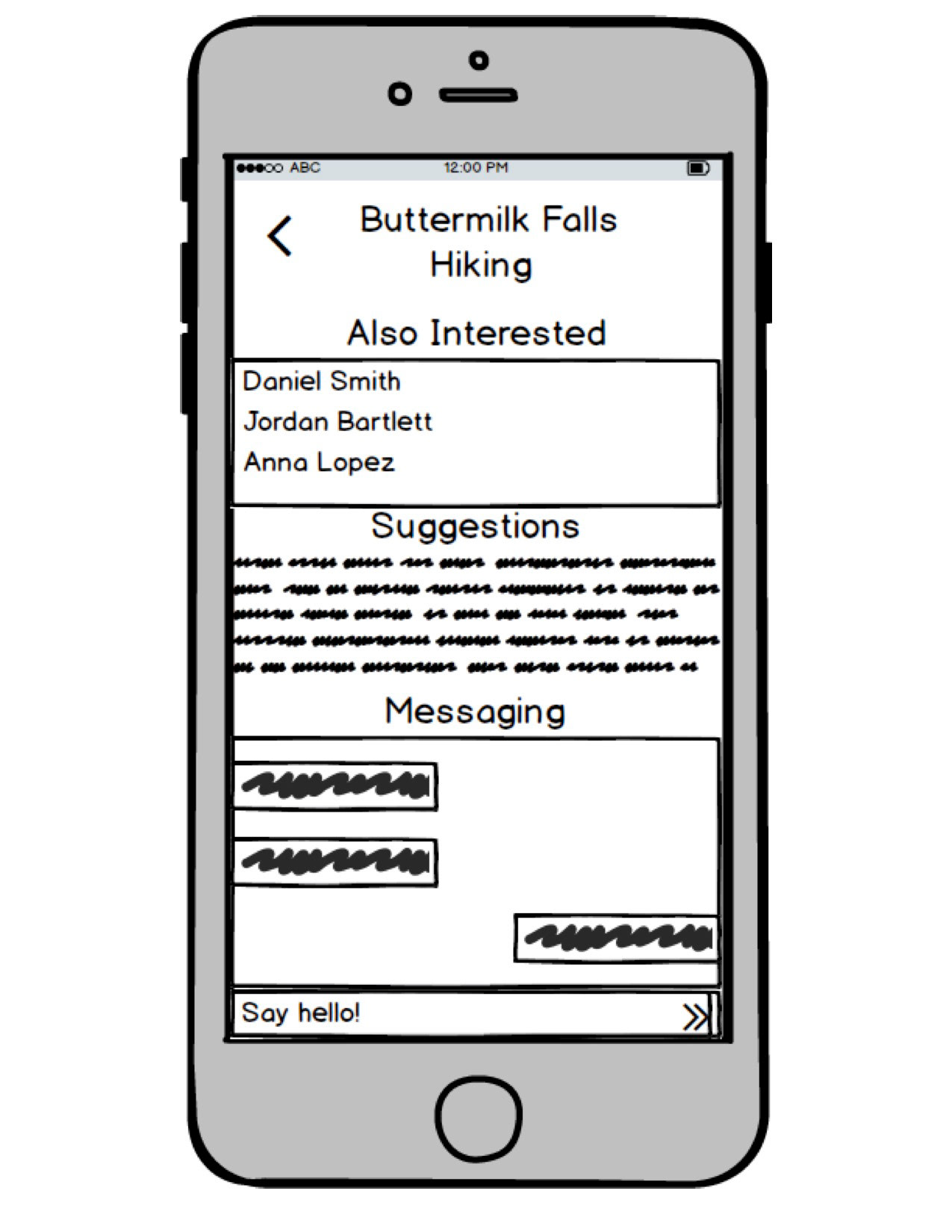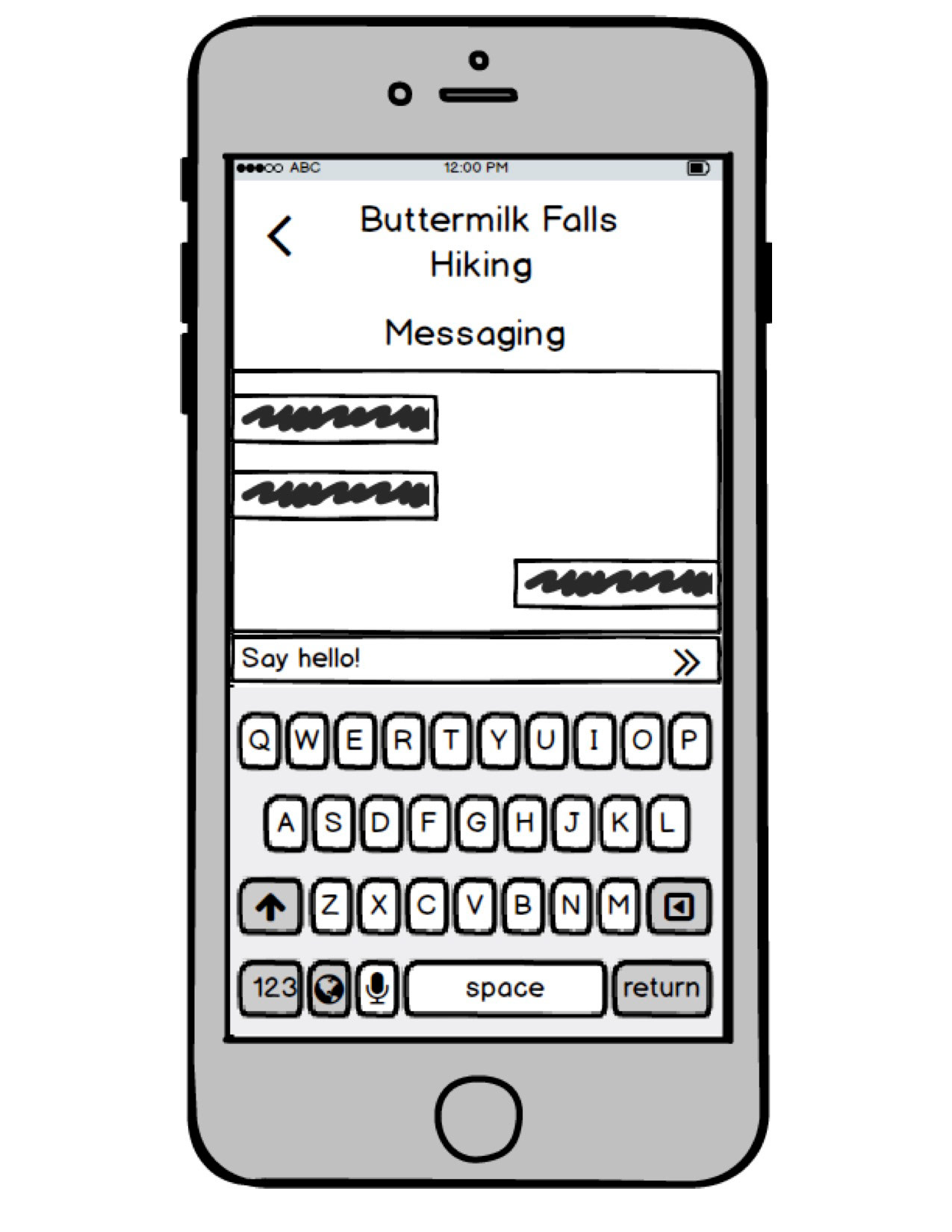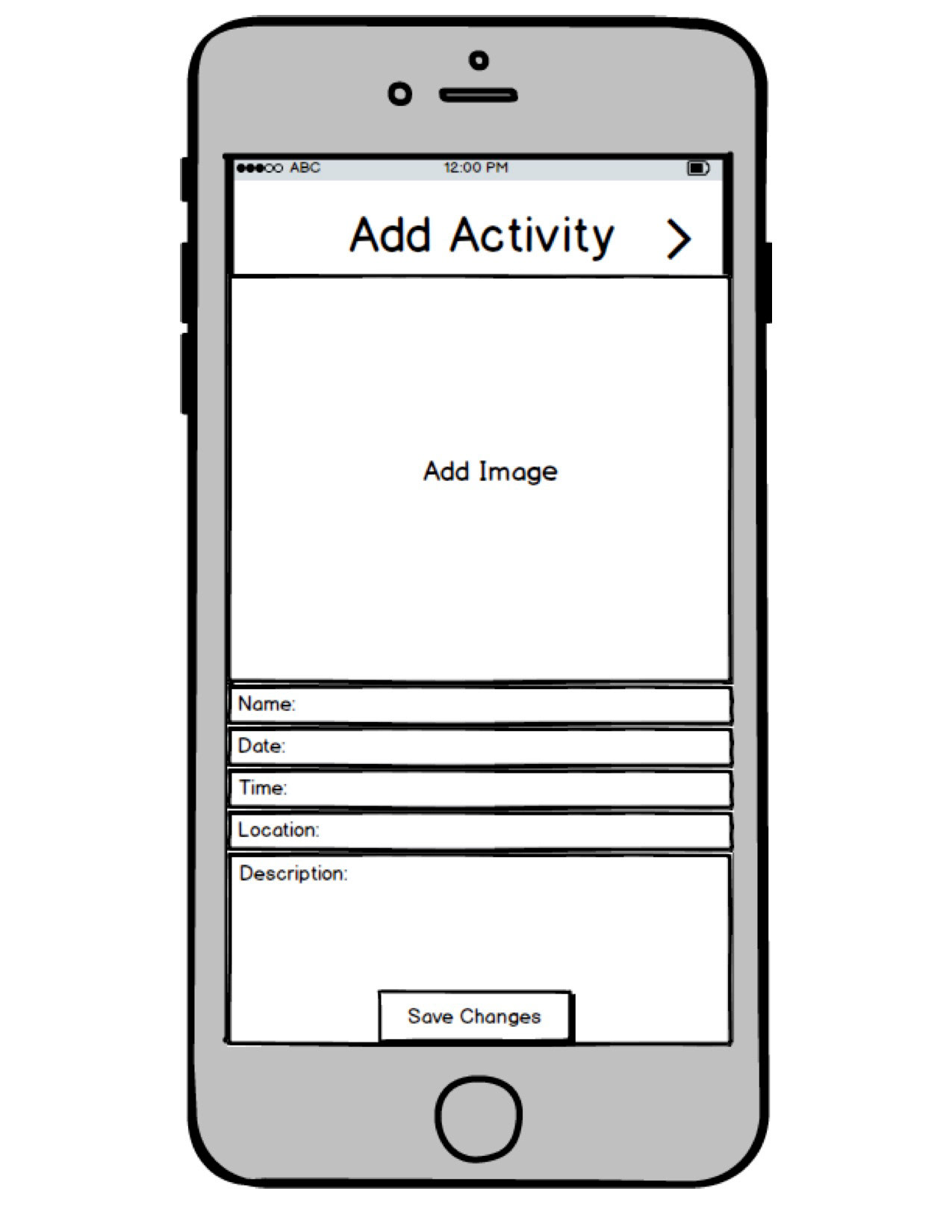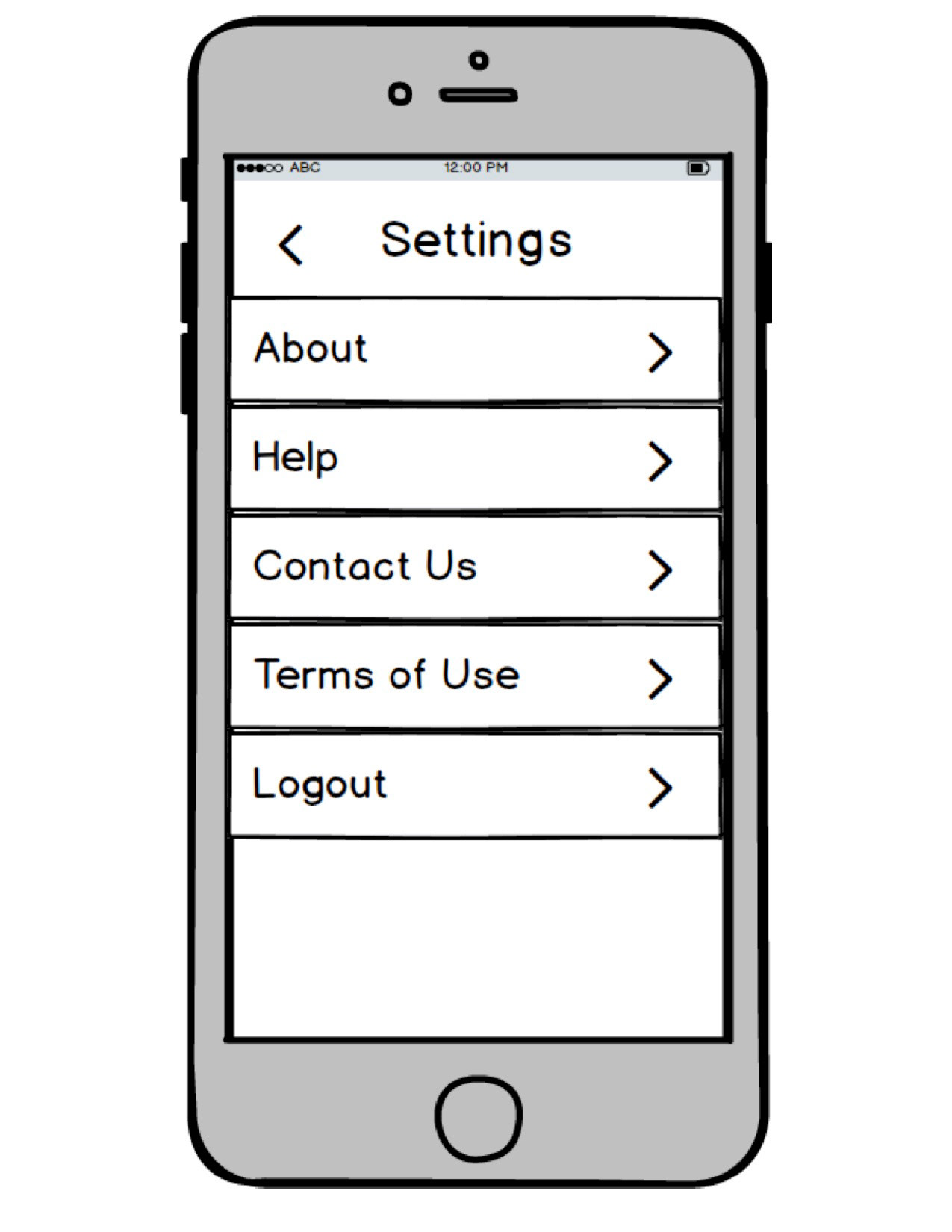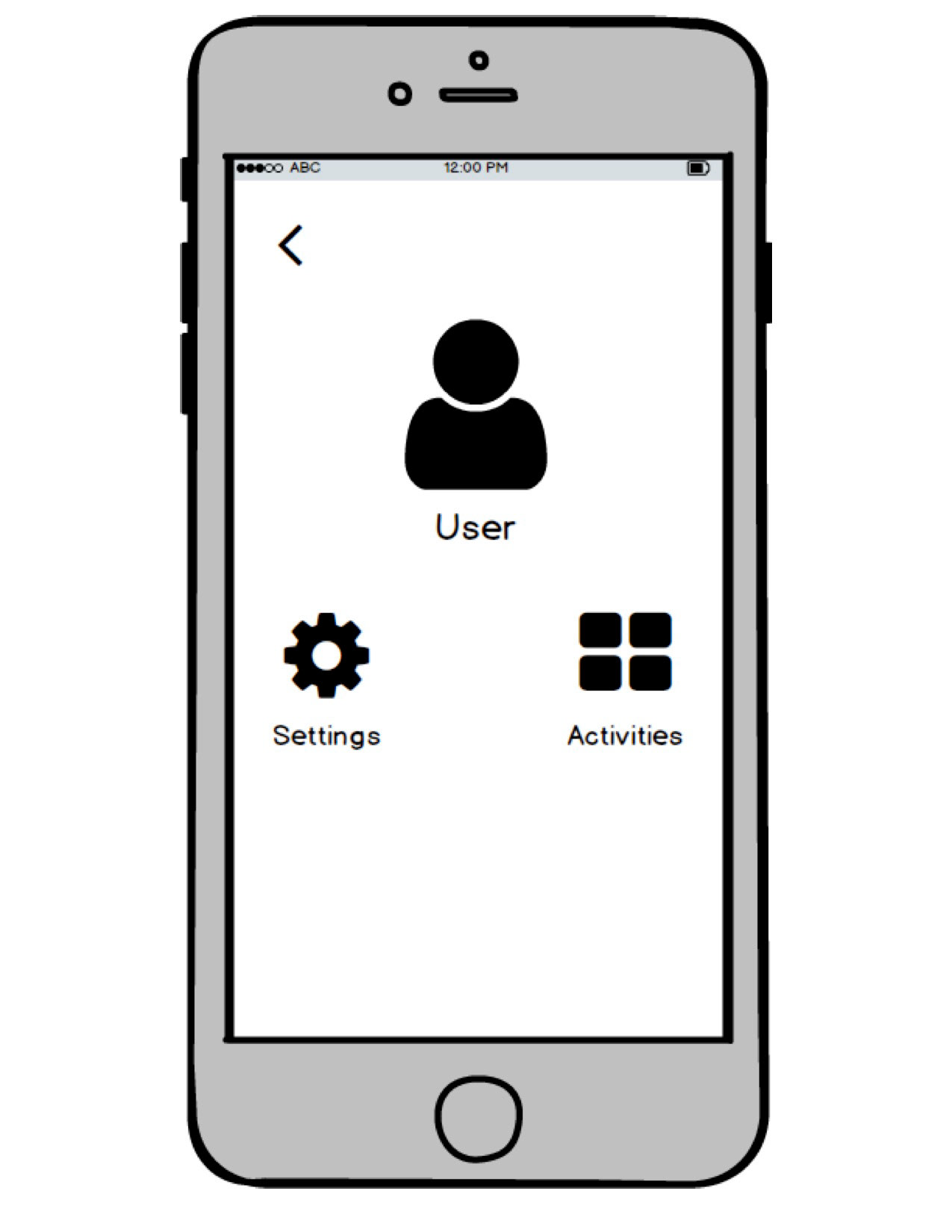 We used Nielsen's Heuristics to evaluate our Balsamiq prototype because it has a wide array of heuristics that cover most if not all UI errors and issues. It is very user focused and as we are designing an app it makes sure we pay attention to what our users will encounter and how to make the system as clean as possible for them.

Based on the heuristic evaluation, we made several changes in order to create a hi-fi prototype using
Sketch
and
InVision
. The main changes were adding a "create account" page, keeping the "plus" sign on the discover page for users to create new events and changing the "plus" sign on the homepage to a "world" icon that means going to the discover screen, adding a notification function, and changing the profile page to a simpler one with only the user's information displayed and added an edit button for the users to change their profile information.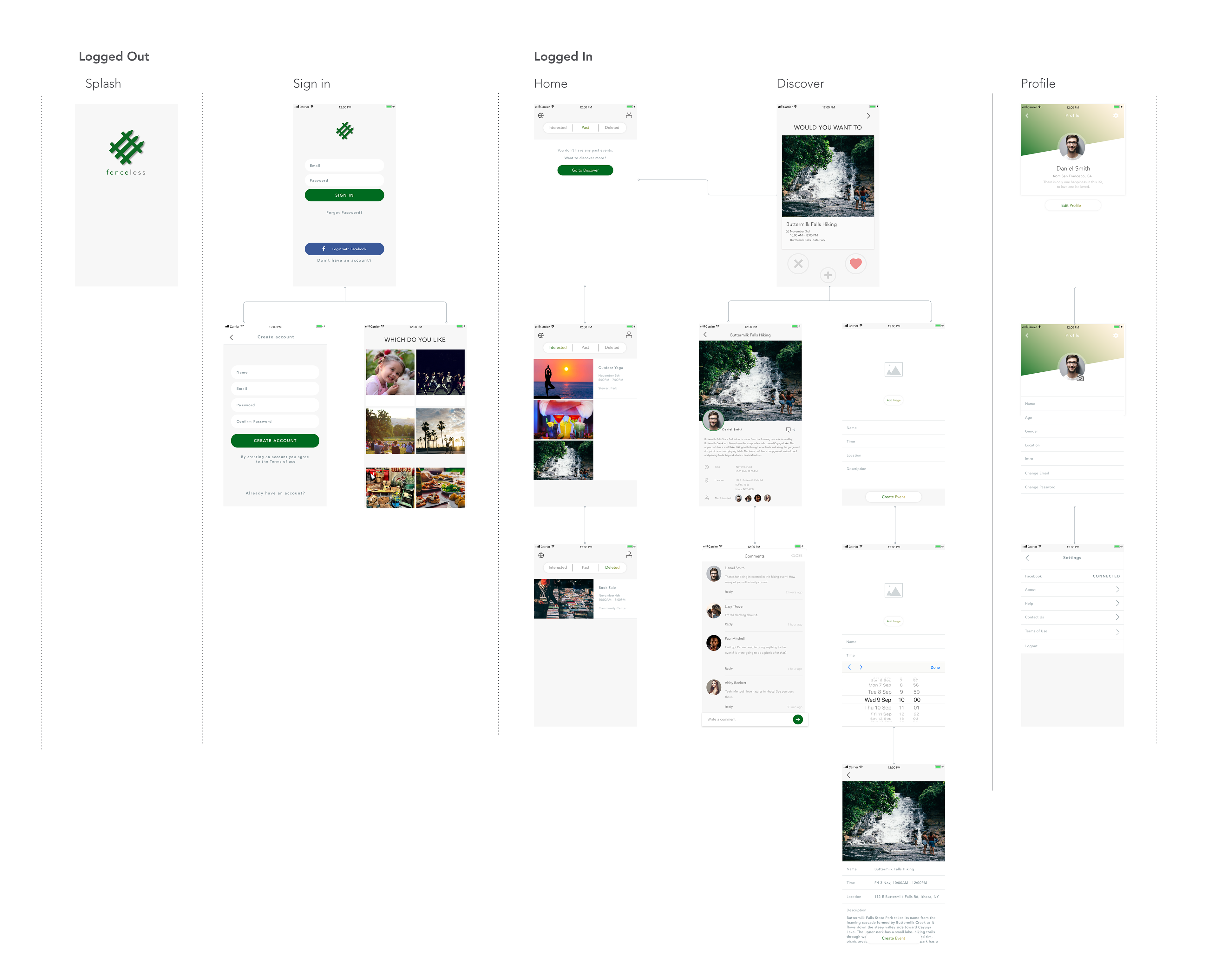 Third round user evaluation
After creating the high-fidelity InVision prototype, we conducted another round of
user testing
to see how our users interact directly with Fenceless. We developed a detailed user evaluation plan and run user testing with multiple persons. We were able to find several design problems that hindered user experience. For example, the globe icon does not clearly indicate discovery screen; it is unclear what plus icon means and how to create events; we also need to distinguish liking and attending an event; and it is mentioned several times by users that the comment section does not really make sense.
Our application "Fenceless" hopes to facilitate connections and conversations. The goal is to revive face-to-face interactions and collaboration in the midst of a very networked community. In the future, we would like to invite more users to participate in the design and evaluation process, in order to improve our robustness of the interactive technology.