Since
nowadays
busy schedules have taken so much time away from us, most people have limited time to be physically present at fitness centers to attend training sessions. In this case, a live fitness virtual training may be a good solution, which provides a new way of interaction between trainers and trainees by allowing them to video conference with each other during workouts. It not only solves the problem of trainees not able to receive personal instructions and feedbacks from trainers if they just watch online videos, but also addresses the issue of people having no time or finding it too time-consuming to attend in-person training sessions.
Because this was a semester-long project but with very complicated work, we divided the labor and planned a timeline for our project.

1. We had difficulty finding appropriate targets for user interview. Although trainees were relatively easy to find, the trainers were not easily accessible. Also, it was difficult to find available time slots for both our student UX designers and interviewees. So we ended up reaching out to more fitness centers than we expected to get enough user inputs.
2. Our client was not familiar with the app design process, so we needed to explain rationale behind the steps from a stakeholder's perspectives. It was challenging because it required us to clearly state our purposes and technical terms we used. As a result, we researched online resources about how to communicate effectively with stakeholders and integrated visual presentations and clear descriptions without jargons.
We followed a Double Diamond structure for this project. We also made it an iterative process by user testing several rounds and refining the prototype several rounds.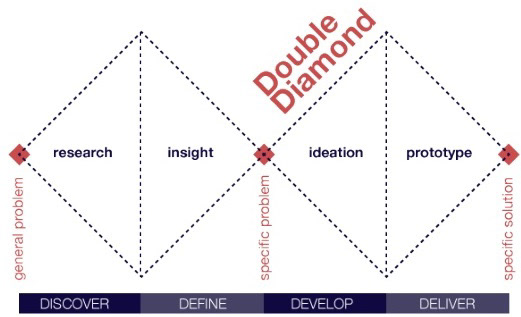 Two designers, Xinyi and I, were responsible for interviewing trainees and trainers respectively. By combining and analyzing all the inputs we received from our interviewees, we did
card sorting
to find out our most significant findings. In this case, we asked 4 participants to organize topics into categories that make sense to them and label these groups.

After we finished conducting the interviews with both trainees and trainers and analyzing the results of our card sorting, we were able to conclude the most significant findings from the user research.

1. Trainees regard
rewards
as an important motivation.
2.
Tracking
training progress is a good way to keep trainees motivated.
3.
Safety
is a huge concern for trainers.
4. It is important to check trainers'
credentials
to determine if they are qualified.
Then, we developed
personas
 for both trainee and trainer to help align strategies and goals to specify our user groups. The stories of personas are all based on real data collected from the interviewees.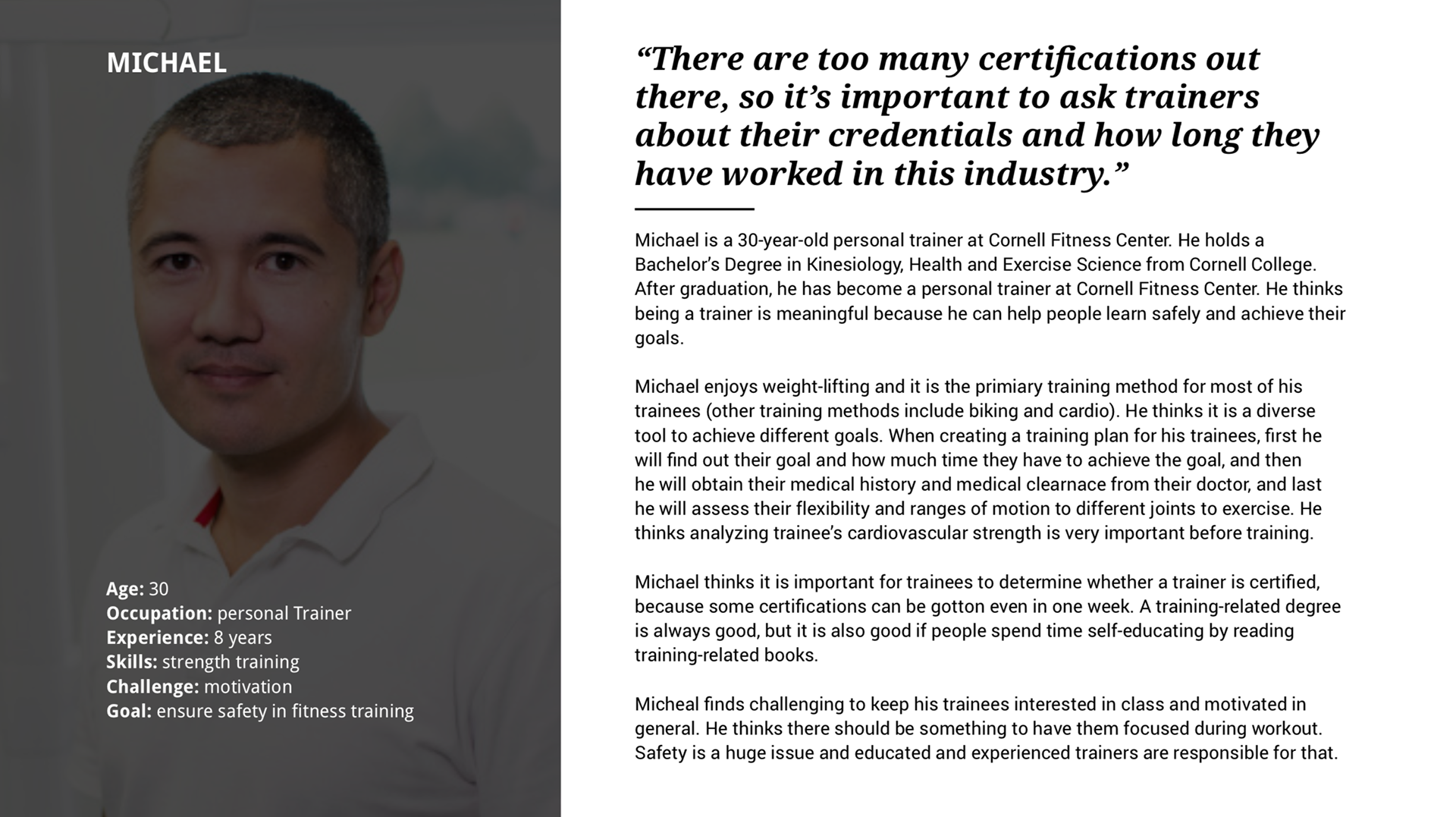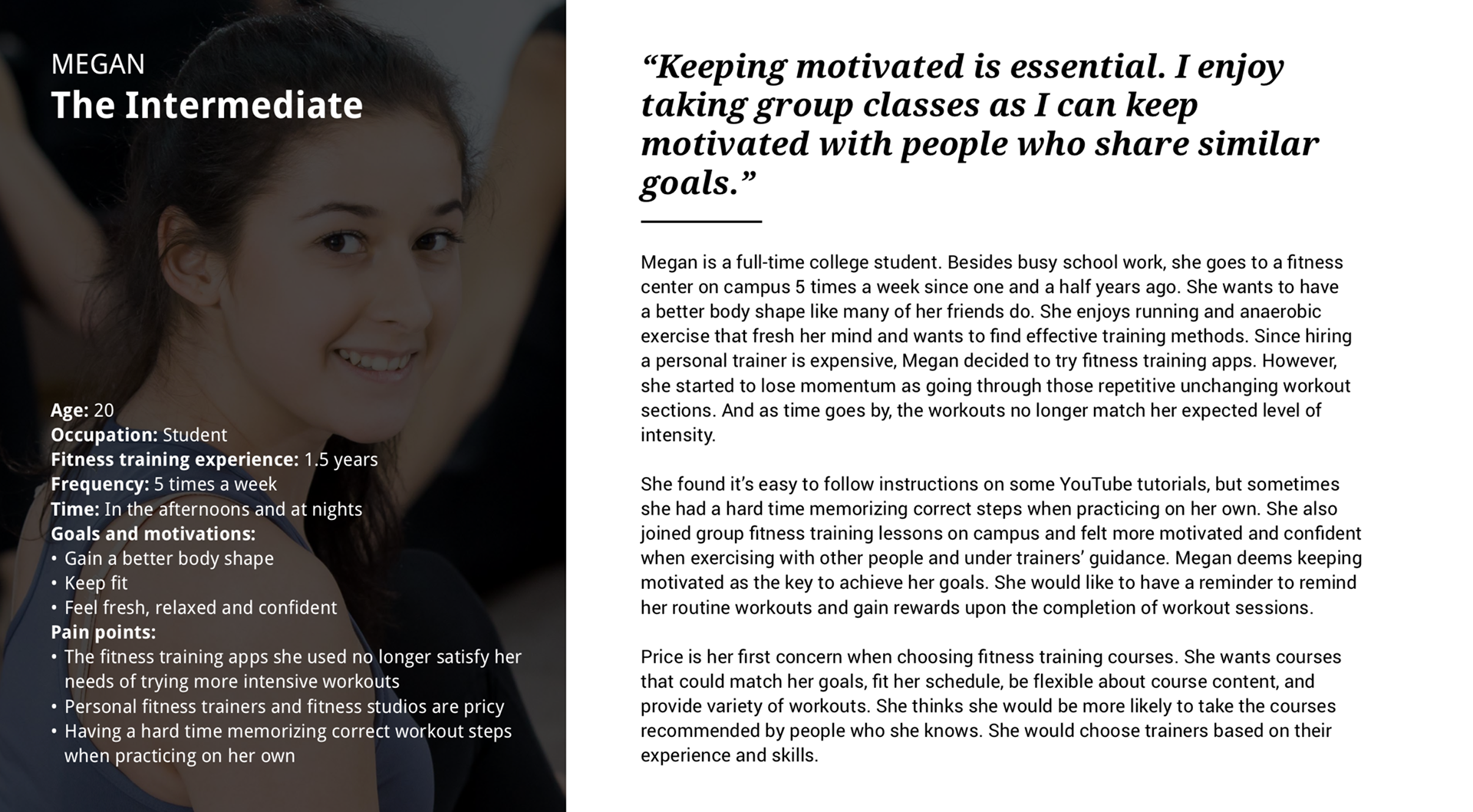 We created a 
site map
 to show the structure of the Fitness Live app and as a reference point for wireframes and functional specifications. We also outlined questions for each functional block and got developer and client's opinions and feedbacks at our weekly meeting.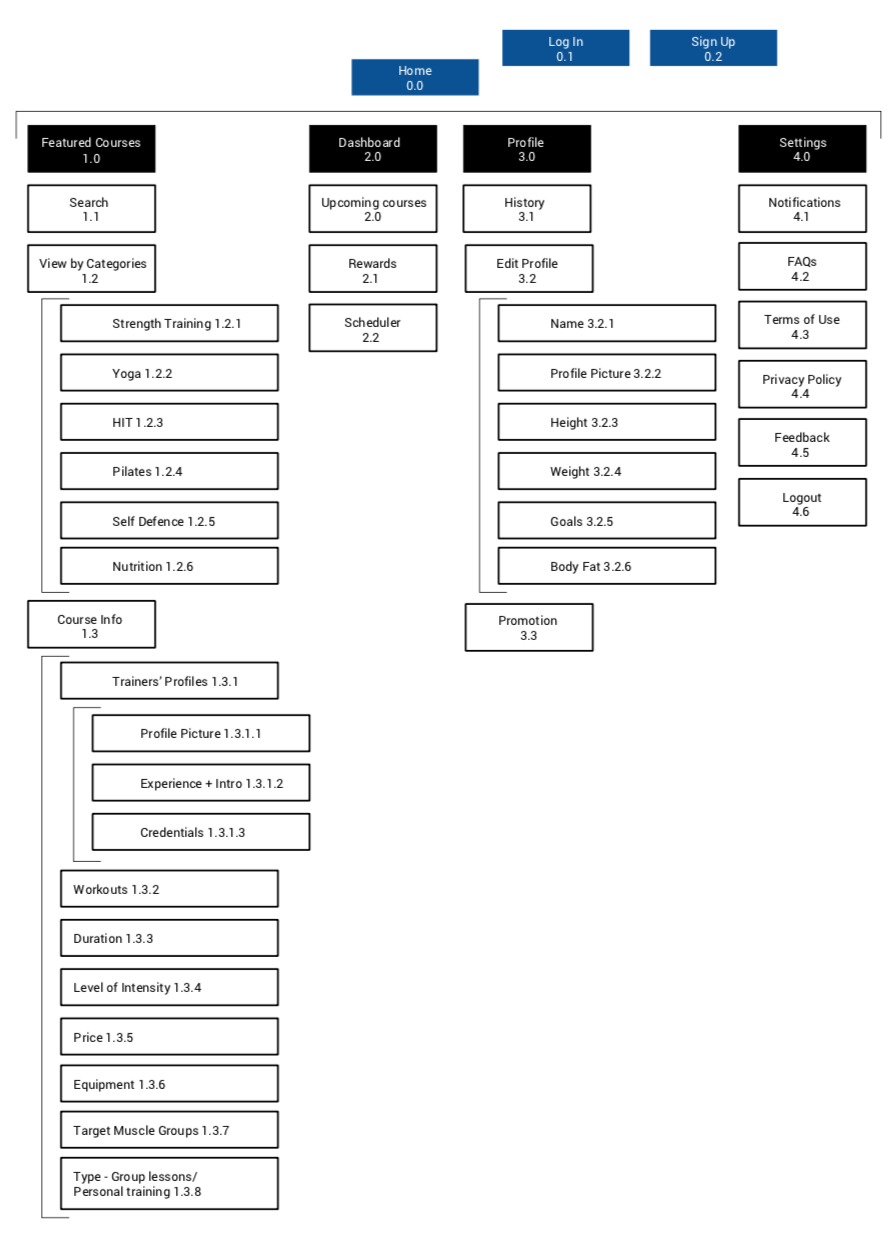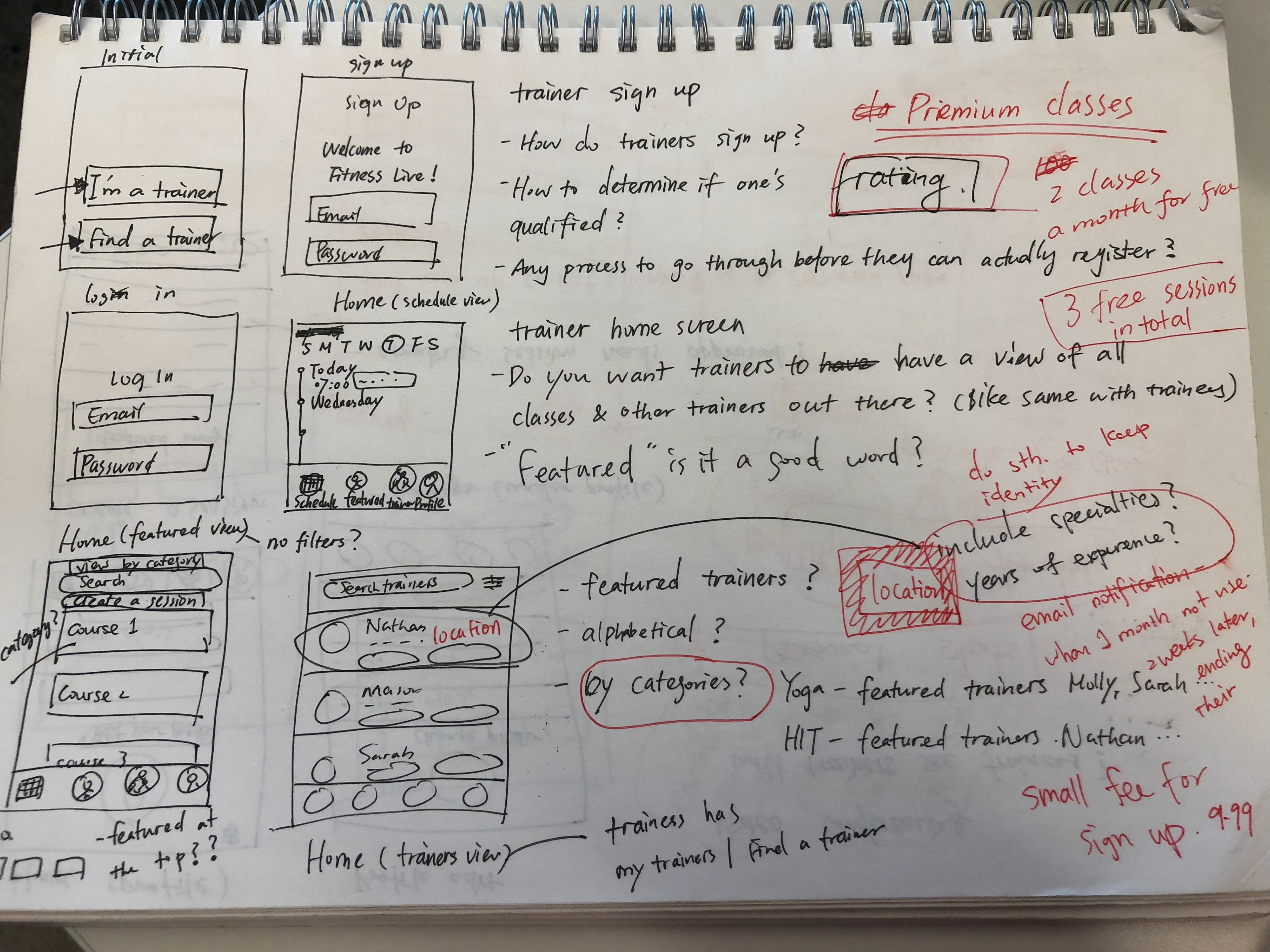 After deciding on an information architecture, we started building a low fidelity prototype using Balsamiq to wireframe all the basic functions we were trying to develop in the product.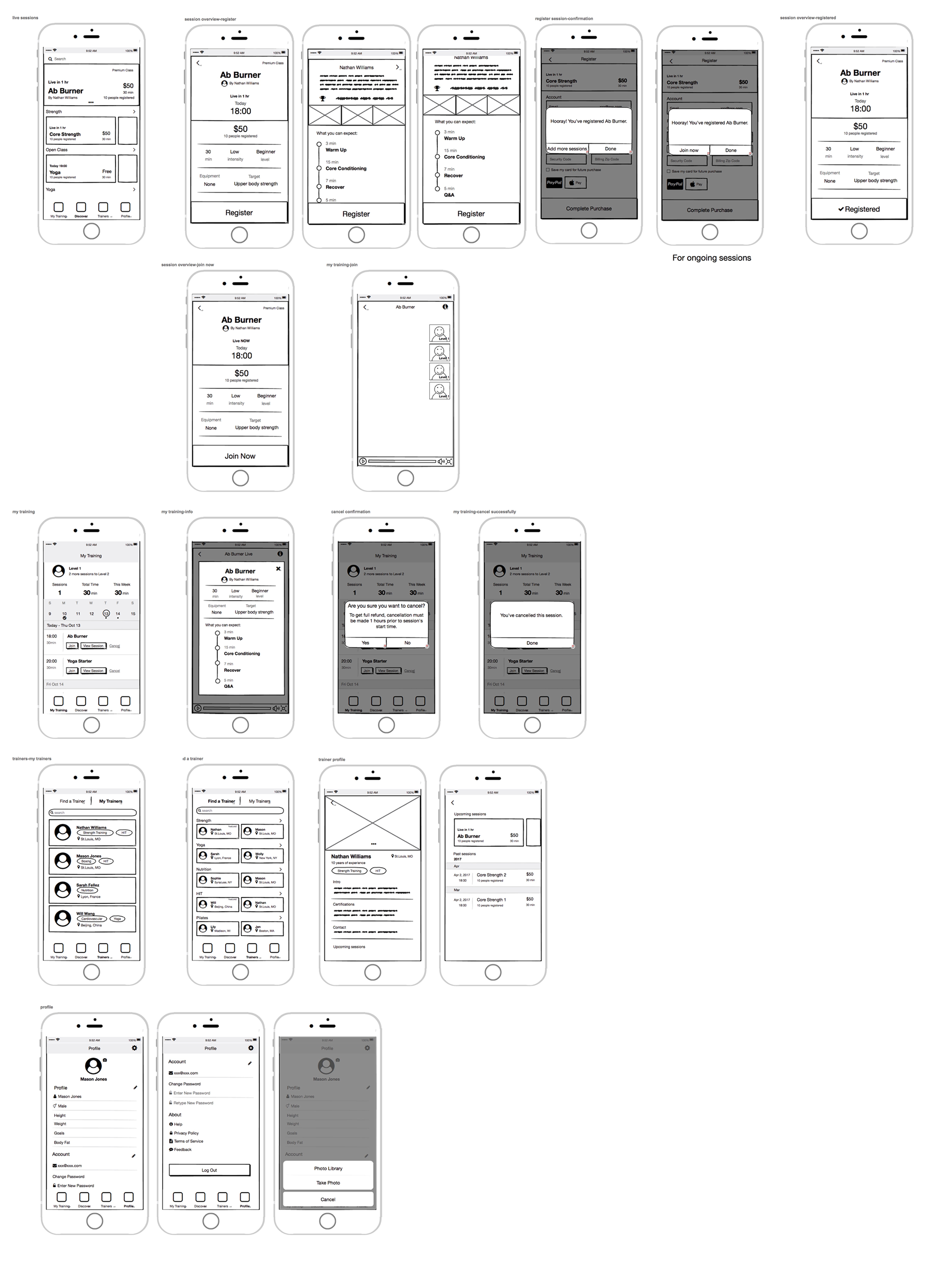 After finishing the low-fidelity prototype of Fitness Live, we used
Sketch
and
InVision
to create a high-fidelity prototype, while collaborating with our developer to produce a working prototype via Cordova.
The InVision prototype can be accessed
here.

Due to time constraints, we only designed and implemented the most important features based on user research and testing. However, we suggest building the following additional features in the future:
1. Progress Tracker, as user research showed that motivation is a significant part.
2. Push Notifications.
3. Promotions.
4. Communication between Trainers and Trainees.