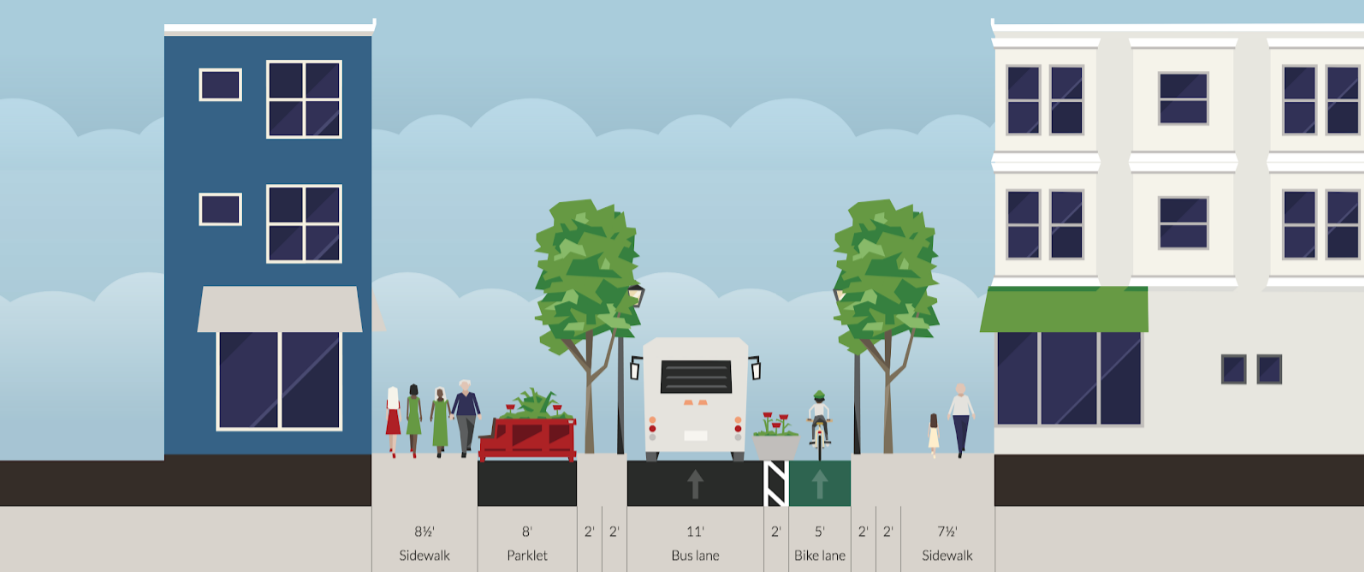 As mobility system of Cornell University Collegetown has been a headache for both businesses and students, we participated in a real project with the City of Ithaca, 
Ithaca-Tompkins County Transportation Council
 and 
Tompkins Consolidated Area Transit
 to
redesign the mobility system
to set a new standard of sustainability for Cornell Collegetown. By combining design thinking and system engineering thinking processes, we have gone through empathy fieldwork, ideation, fact-finding and modeling, and finally we were able to deliver an early plan and prototype of improvements of current Collegetown.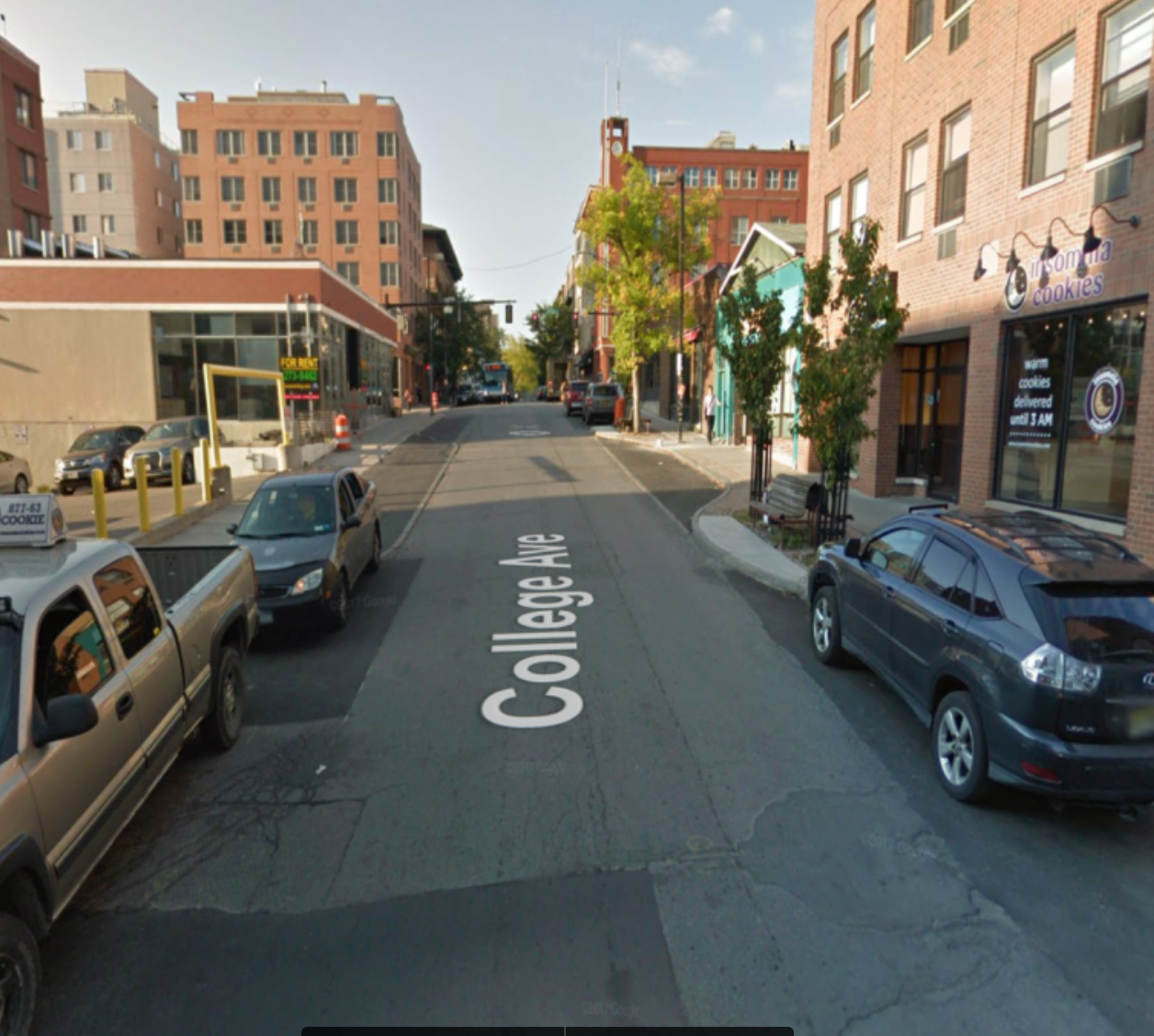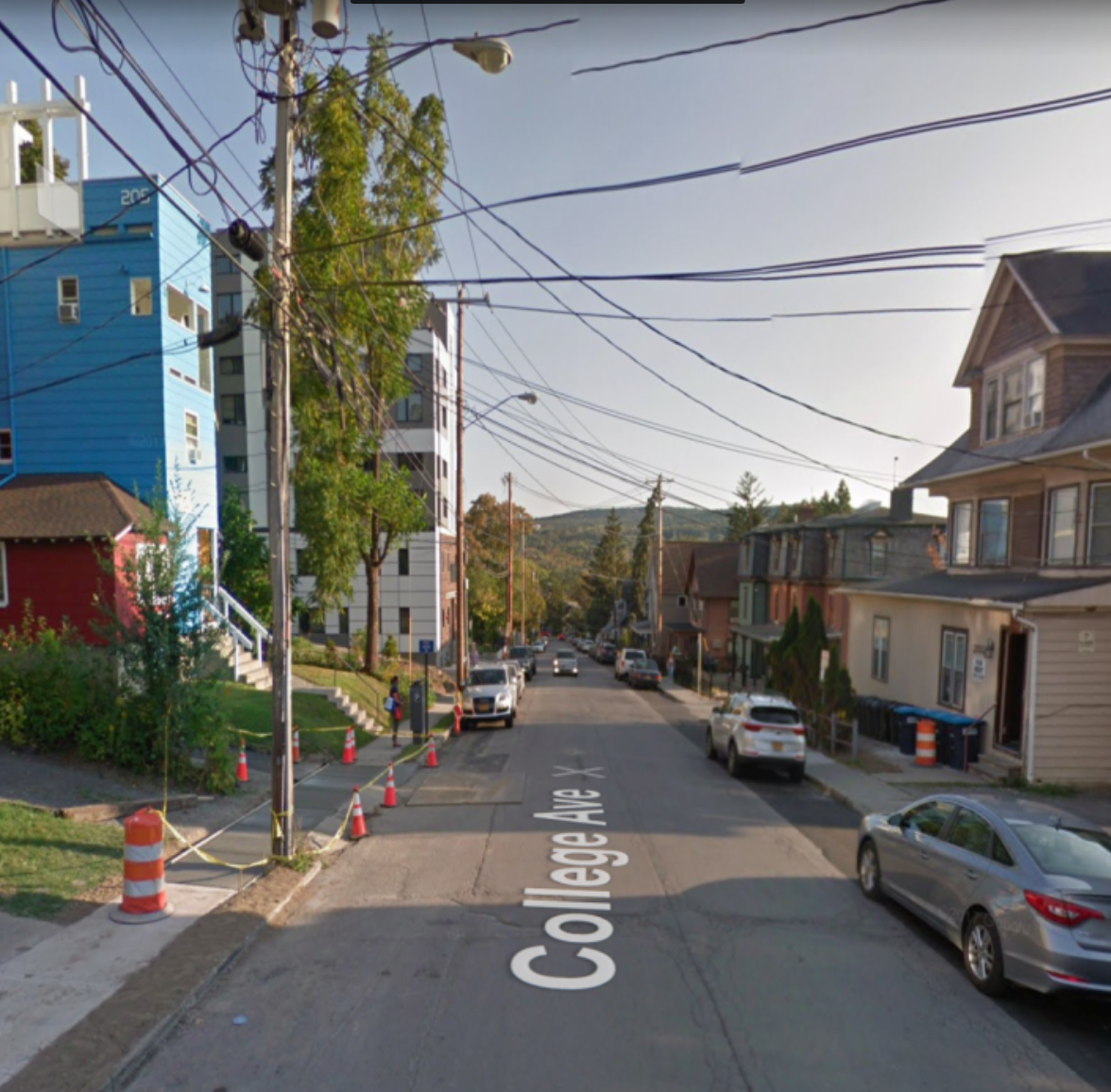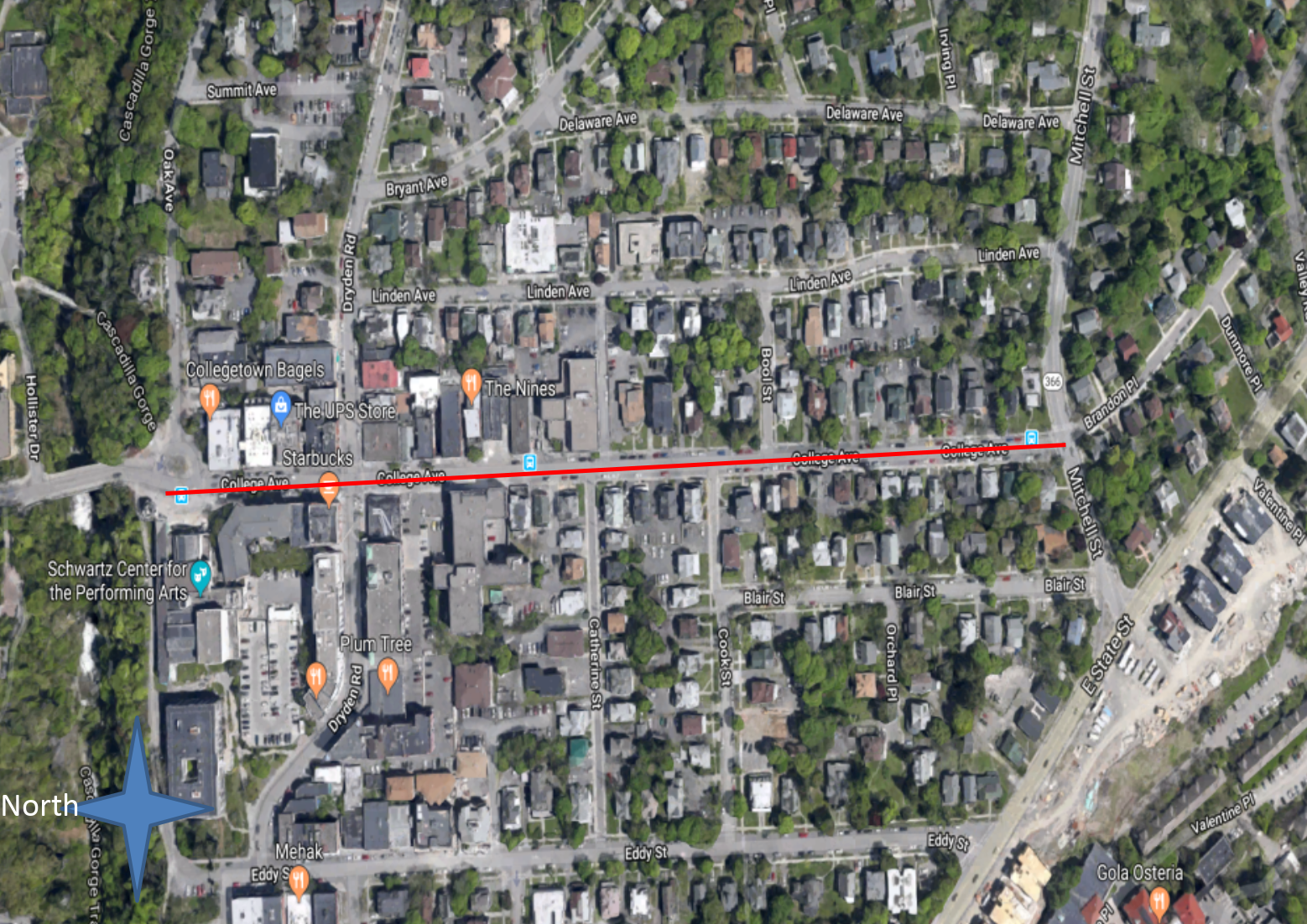 In this project, we applied design thinking process with system engineering process and divided it into seven phases: Empathy Fieldwork, Inspirations, Fact Finding, Modeling, Brainstorming, Prototyping and Testing.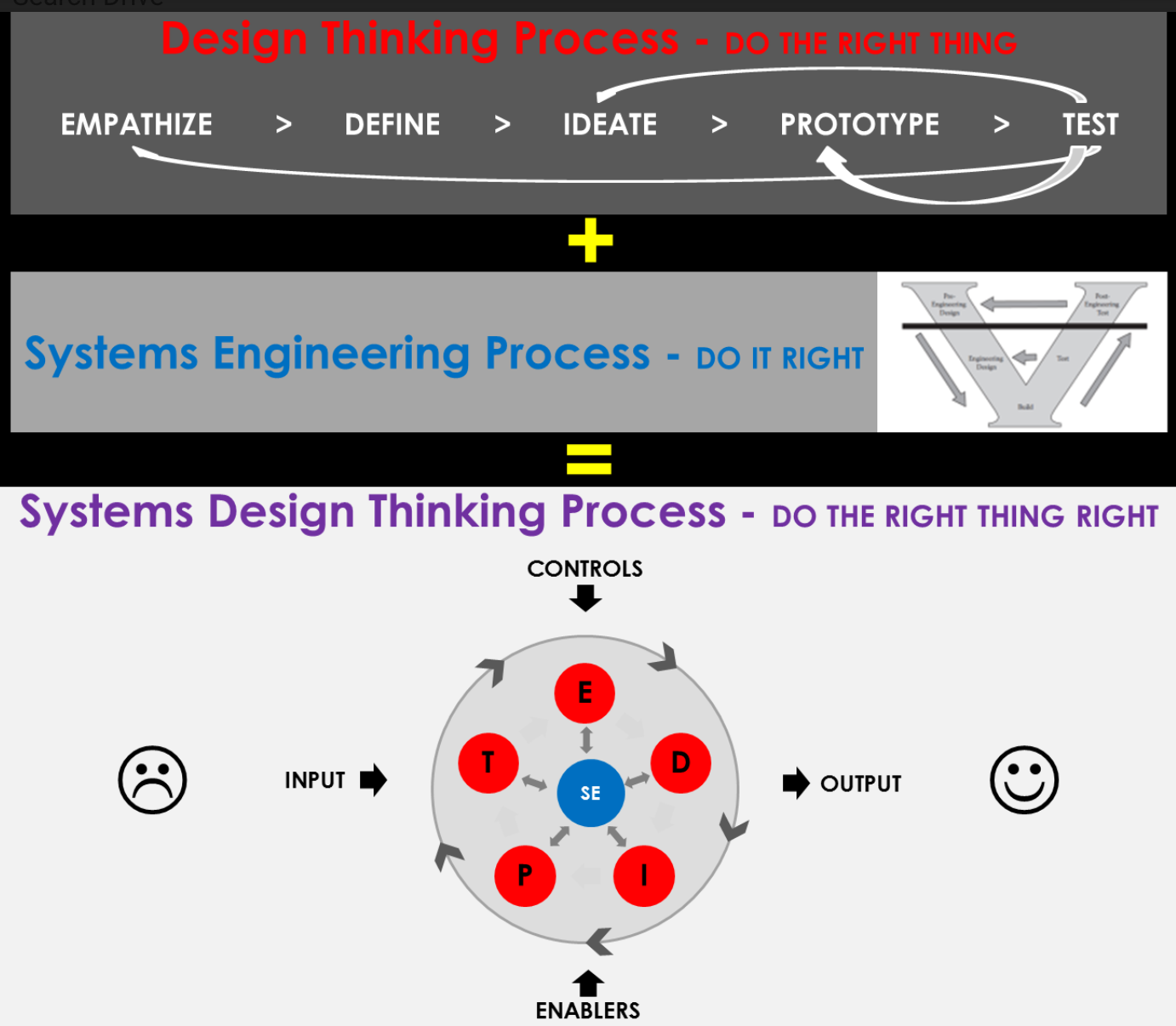 Empathy is the foundation of a human-centered design process; by deeply understanding people we are better able to design for them. We were divided into four groups (Live, Work, Use, Fresh Eyes) and each group member did the empathy fieldwork through the first, second and third person perspectives. For the first person perspective, we did
immersions
where we immersed ourselves in the user's situation and wrote down how we felt what they felt. For the second person perspective, we did
engagement
which involved interviews to capture important and information and emotions. The third person perspective is
observation
during which we watched how people interacted with the system on a regular basis.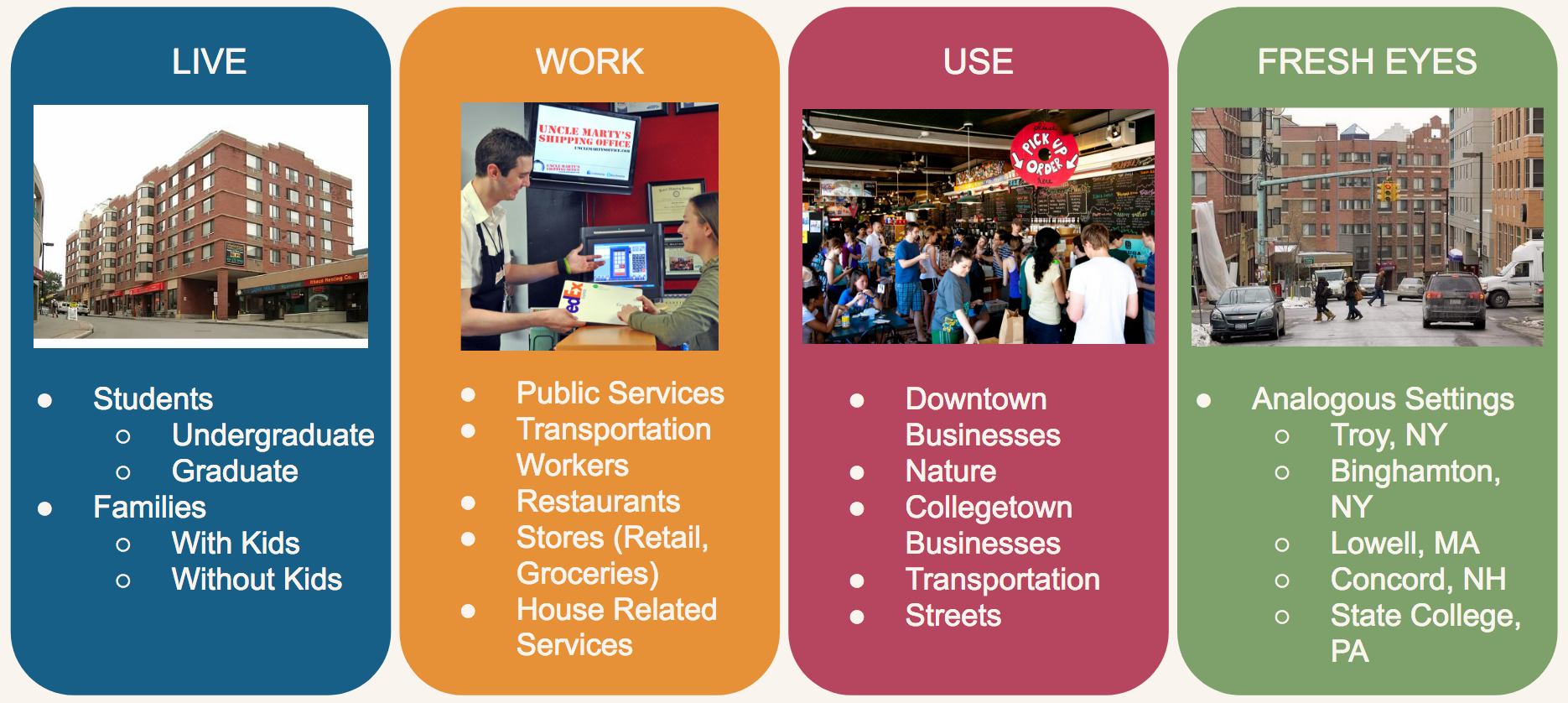 During each empathy fieldwork session, we wrote down episodes which consist of facts and emotional inference from the episodes. During lab sessions, we unpacked all the episodes by analyzing the episodes and coming up with the
needs, insights, and surprises
we were able to infer from the episodes. After unpacking all episodes, we card sorted the sticky notes of all the needs, insights and surprises in order to find out the most significant discoveries of our empathy fieldwork.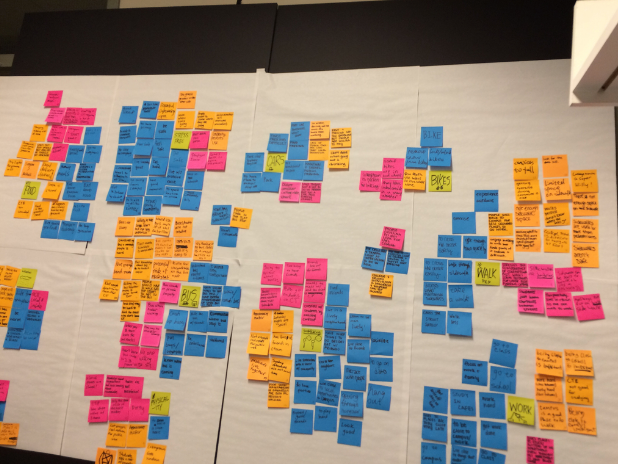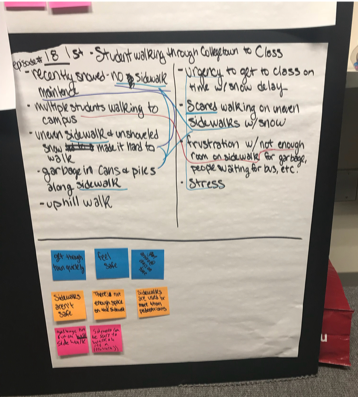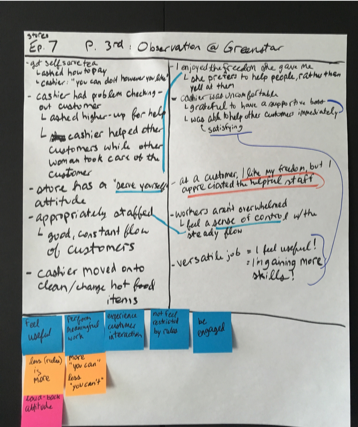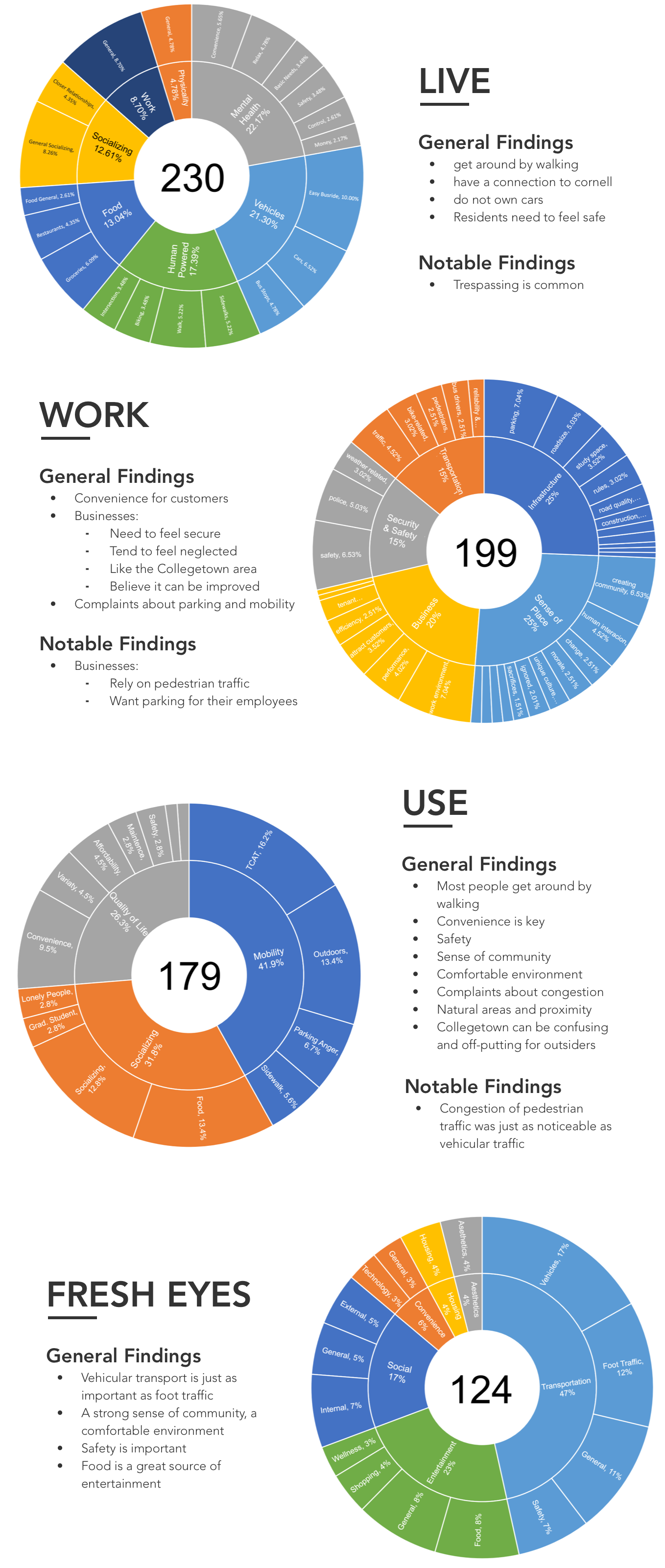 During the phase of defining and modeling, we created personas, persona context diagram and "How Might We" capabilities diagram from the findings we got from the empathy fieldwork sessions.

Personas
are conglomerations of all the people we talked to and observed during empathy fieldwork. In addition to the personas we created, we built a
persona context diagram
to show how the Collegetown mobility system would interact with each of our personas and how the personas would interact with each other.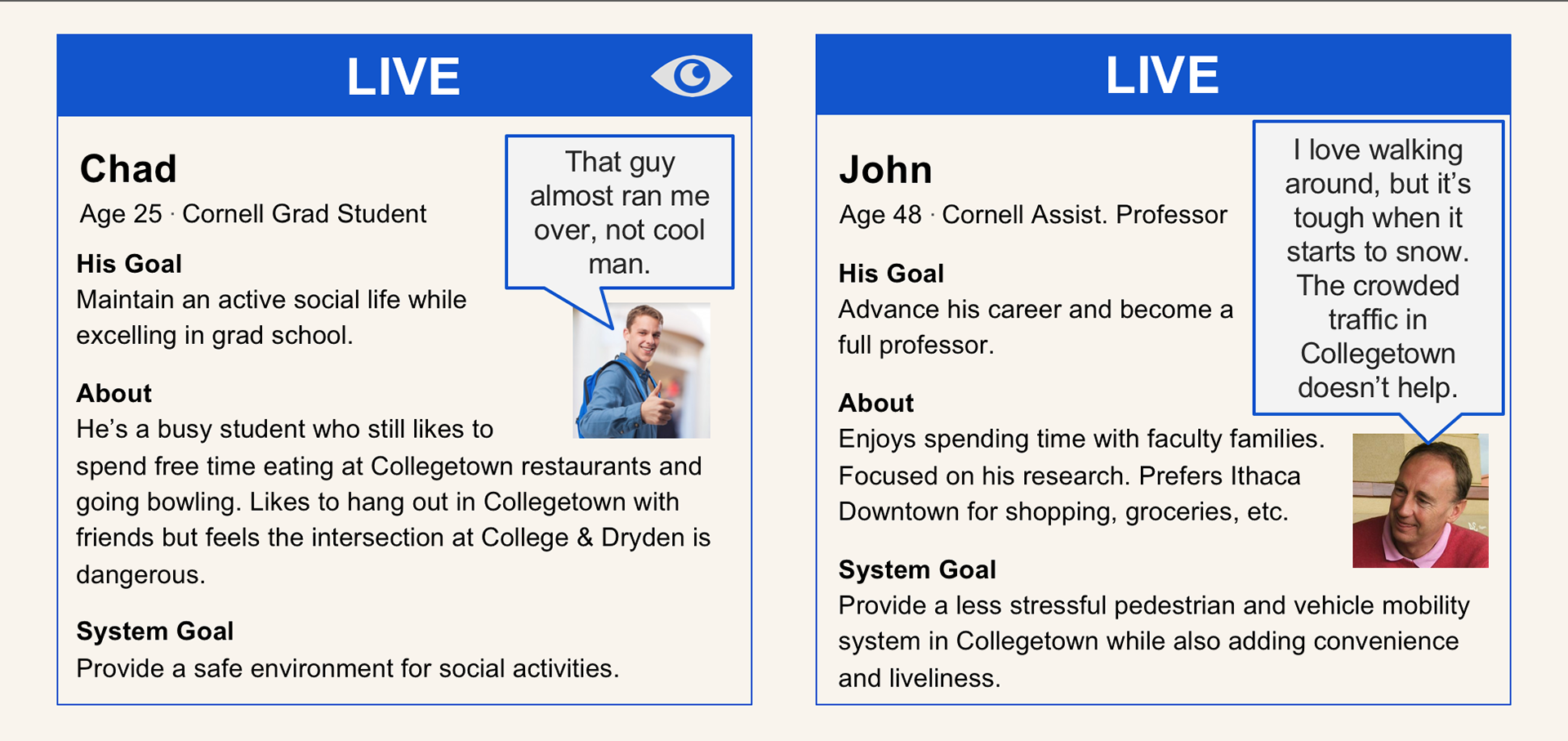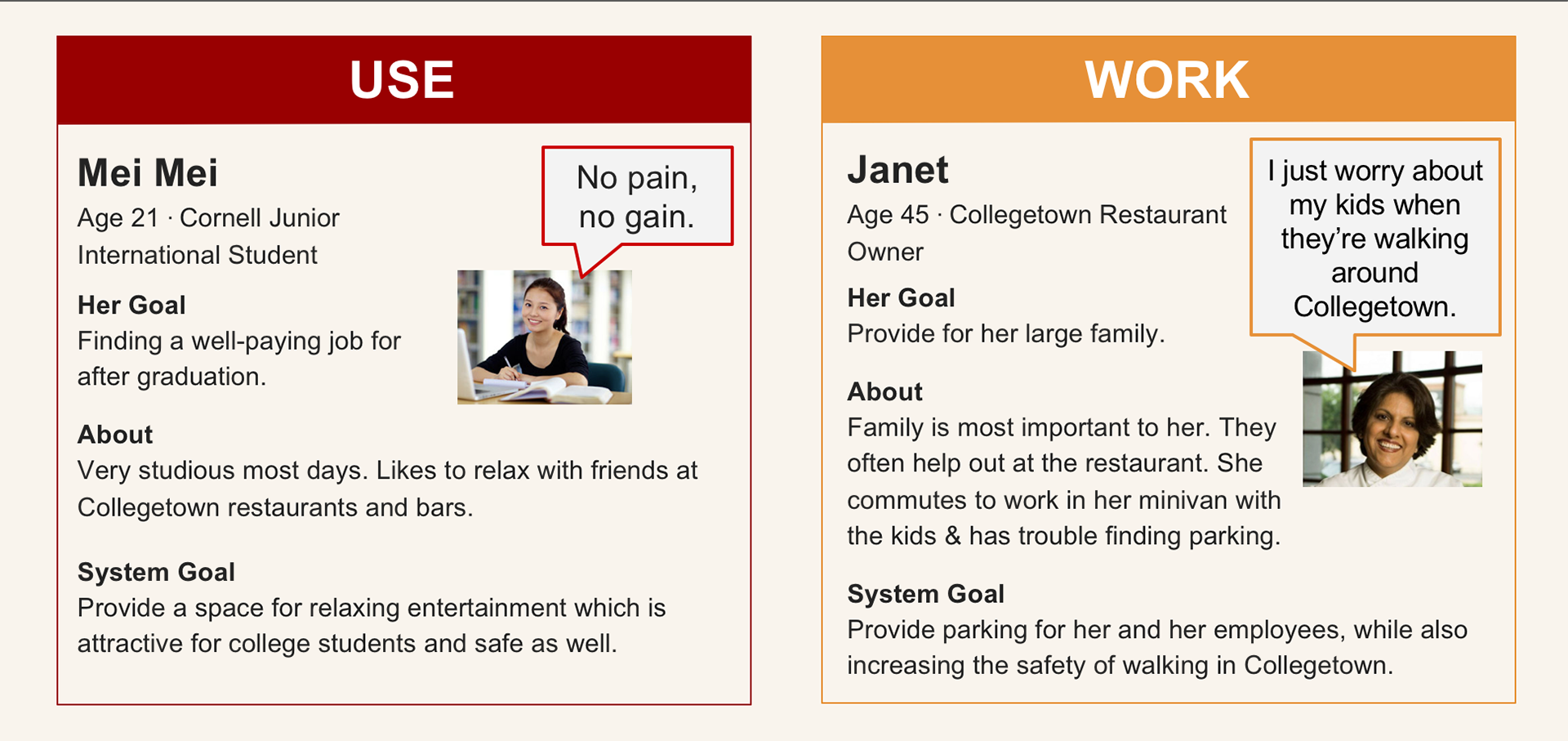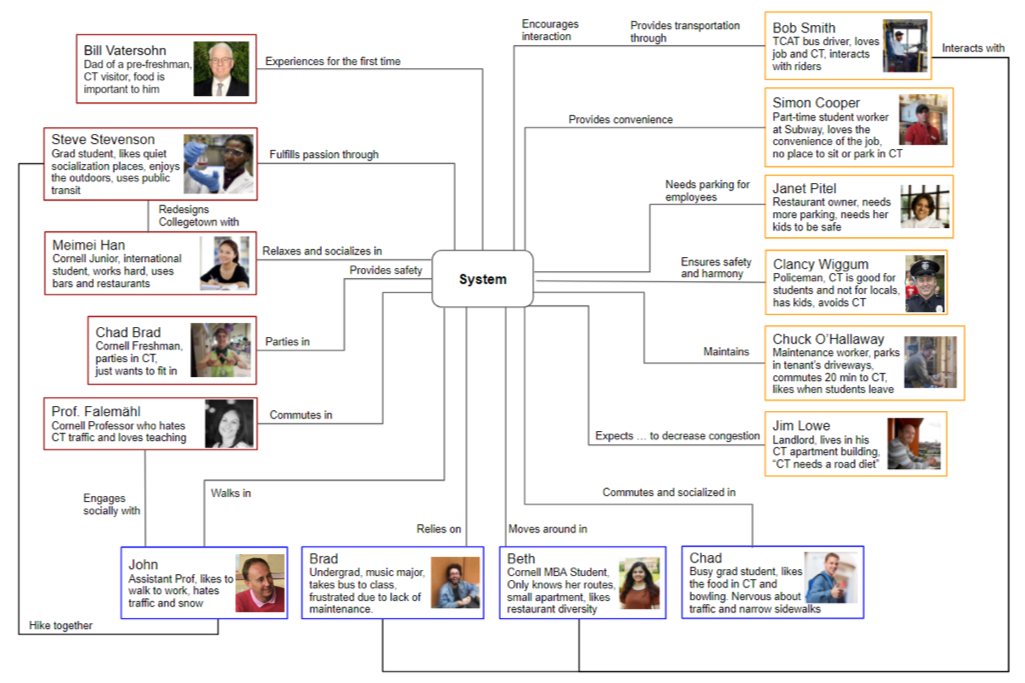 We also created the
"How Might We" Capabilities Diagram
to define how exactly the system should provide for the users of the system. In this case, each group made separate capabilities diagram and we consolidated them into one. (The texts highlighted in blue mean capabilities related to efficiency and engineering side, and the texts in red mean capabilities related to effectiveness and social and people-focused aspects.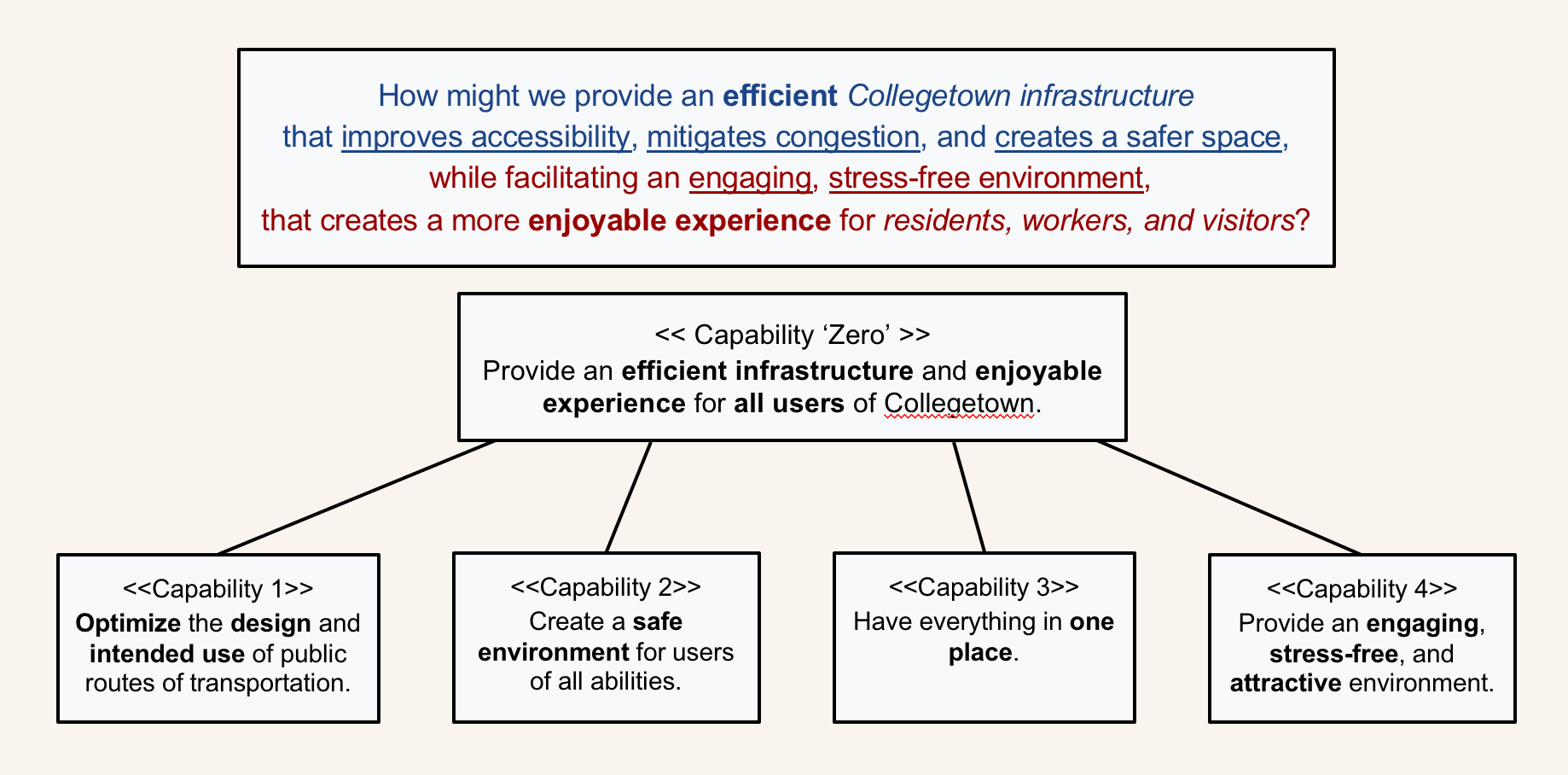 During the phase of ideating, we mainly did two tasks:
fact finding
and
brainstorming
sessions.
Our fact finding research includes nature trails, history of Collegetown, road and sidewalk widths, current bus routes and stops, areas of Collegetown, current parking situation, parking garages, history of businesses, and difference between the 400 and 300 blocks we are targeting to change.
Each group did 4 brainstorming sessions where we all sat together and ping ideas off of one another. Each idea used at least one post-it note to help explain. Then we voted individually on feasibility and desirability and each dot was counted and graphed feasibility vs. desirability. (Red dot is desirability where as blue is feasibility).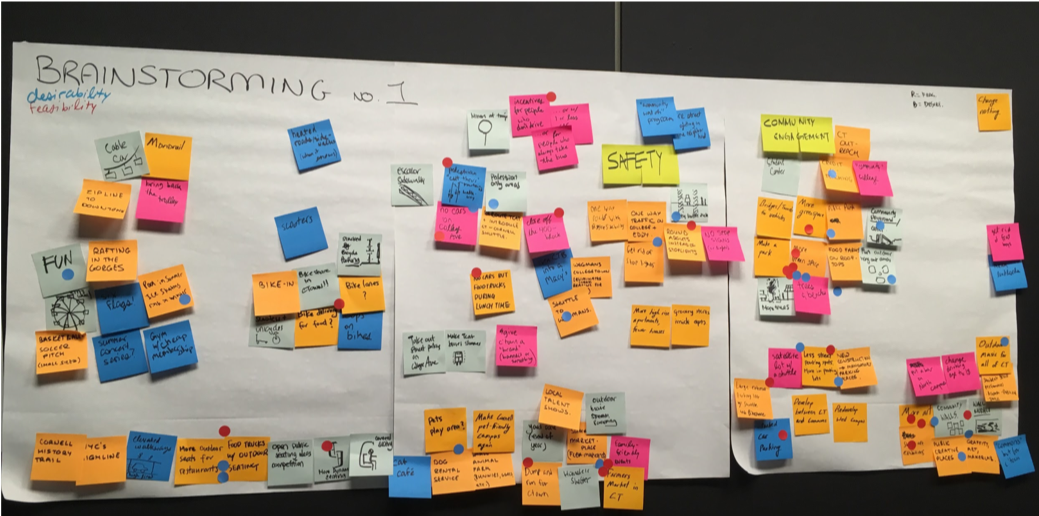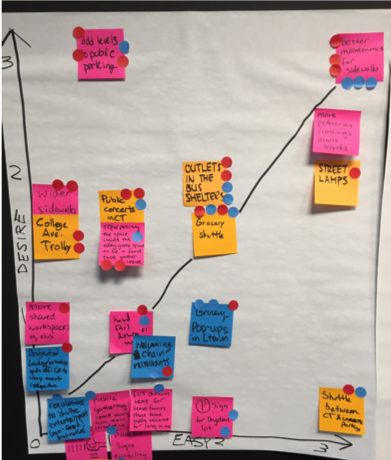 Before prototyping our ideas, we regrouped students into two new groups: identity and mobility. The identity mainly dealt with aesthetics, community and identity of Collegetown whereas the mobility team focused on transportation, mobility and layout.
The main designs for mobility are about bus rapid transit, traffic and intersections, satellite parking, deliveries and signage and lights.
And the main designs summarized for identity are roadside speakers, lights, digital board, directory, circle sculpture, streetlight banners, coupon book, and murals.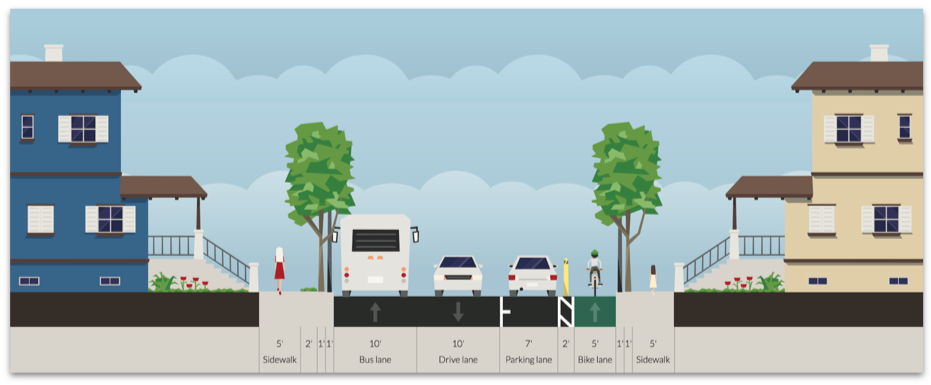 The images above show the prototype of mobility change to the 400 Block and Lower College Avenue. Here we propose that on 400 Block only buses and emergency vehicles are allowed to pass in both directions and no parking should be available on both sides. Also we propose separated bike lane, widened sidewalks. On Lower College Ave, we want to keep bi-directional traffic but add a bike lane, as well as retain some parking, but only on one side of the street.
After we decided on our main design solutions, we wanted to present our ideas and prototypes to our targeted users to test out if they like the designs or not. After user-testing with more than 50 people who work, live or use the Collegetown, we were able to come up with some findings.
1. The roadside speakers are annoying
2. Digital screen isn't Ithaca's vibe
3. Banner is not noticeable
4. Promote pedestrian-only areas
5. Adjust satellite lot route
6. Reschedule shuttle plan
Below is an overview or our design solutions for the mobility system in Cornell Collegetown. To summarize, we propose new traffic patterns, business patterns, improved aesthetics, and community organization.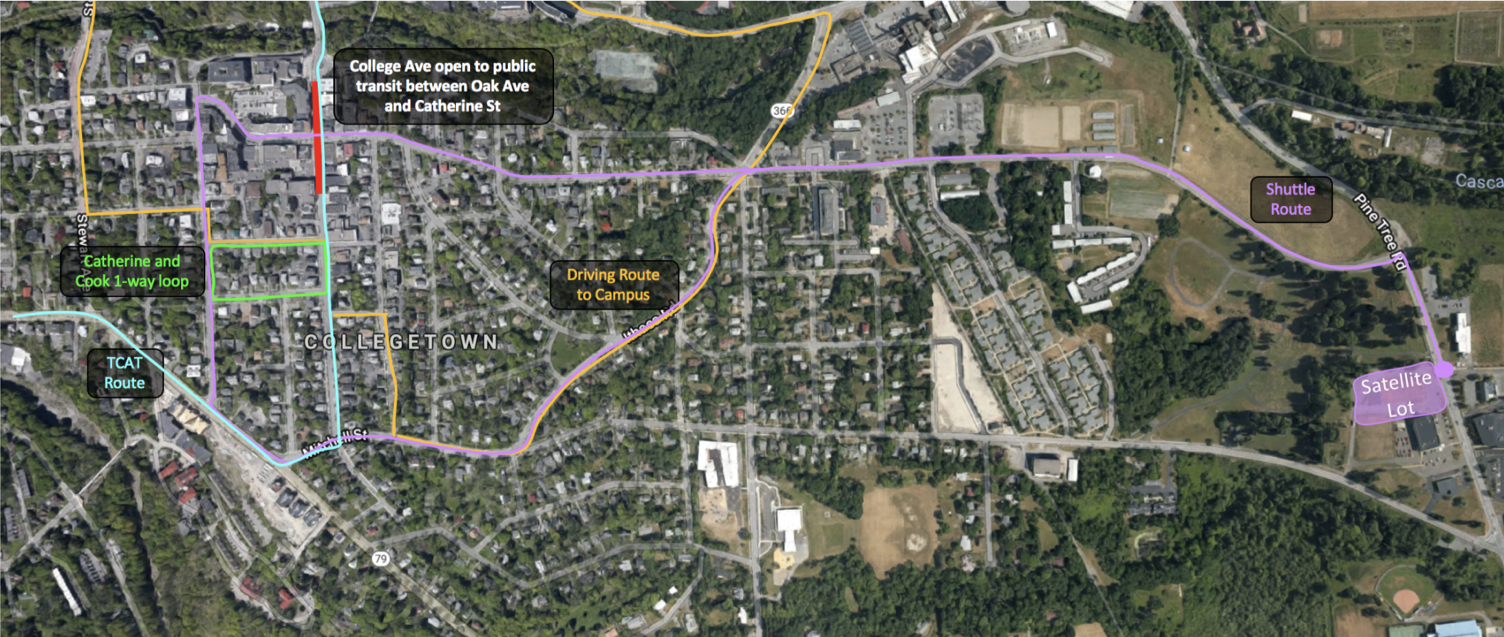 To break down the proposal into details, the first part is our final modification to the 300 and 400 Blocks and the Lower College Ave. We propose expanded pedestrian areas for both locations, dedicated bike-lanes on both sides of 300 and 400 Blocks and northbound on College Ave, parking on one side of College Ave, and bi-directional bus lane on 300 and 400 Blocks.

We also propose several solutions to create new community spaces. There are five main community spaces we decided which are pinned on the map below. Details of each will be explained later.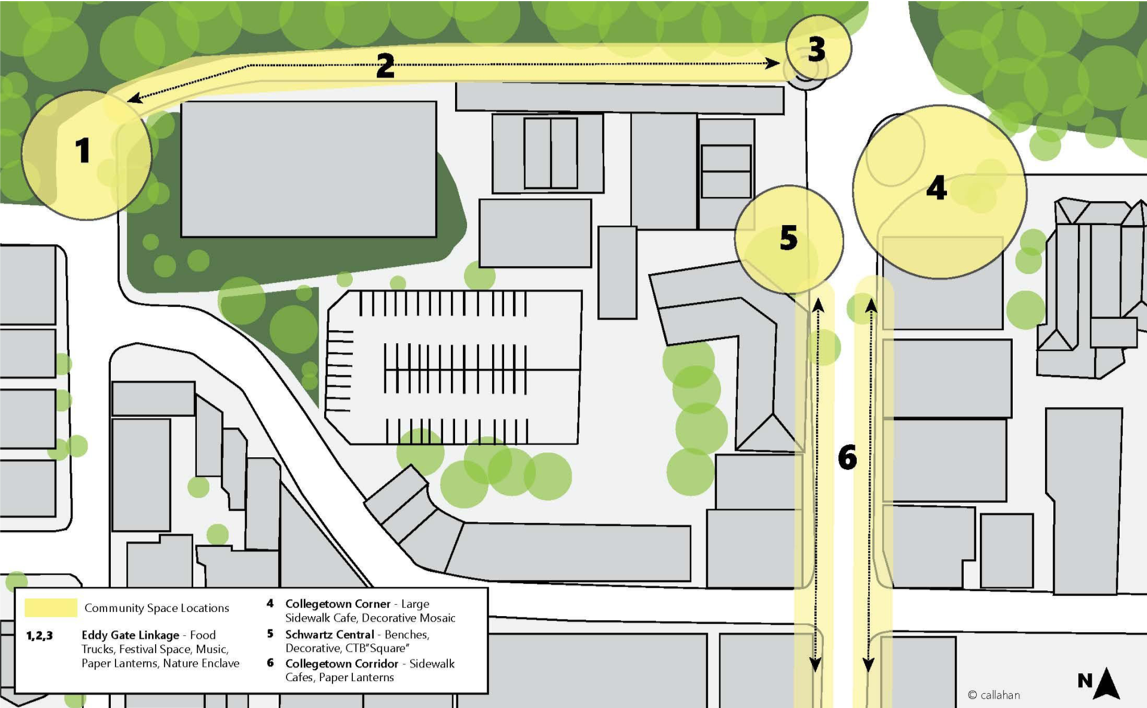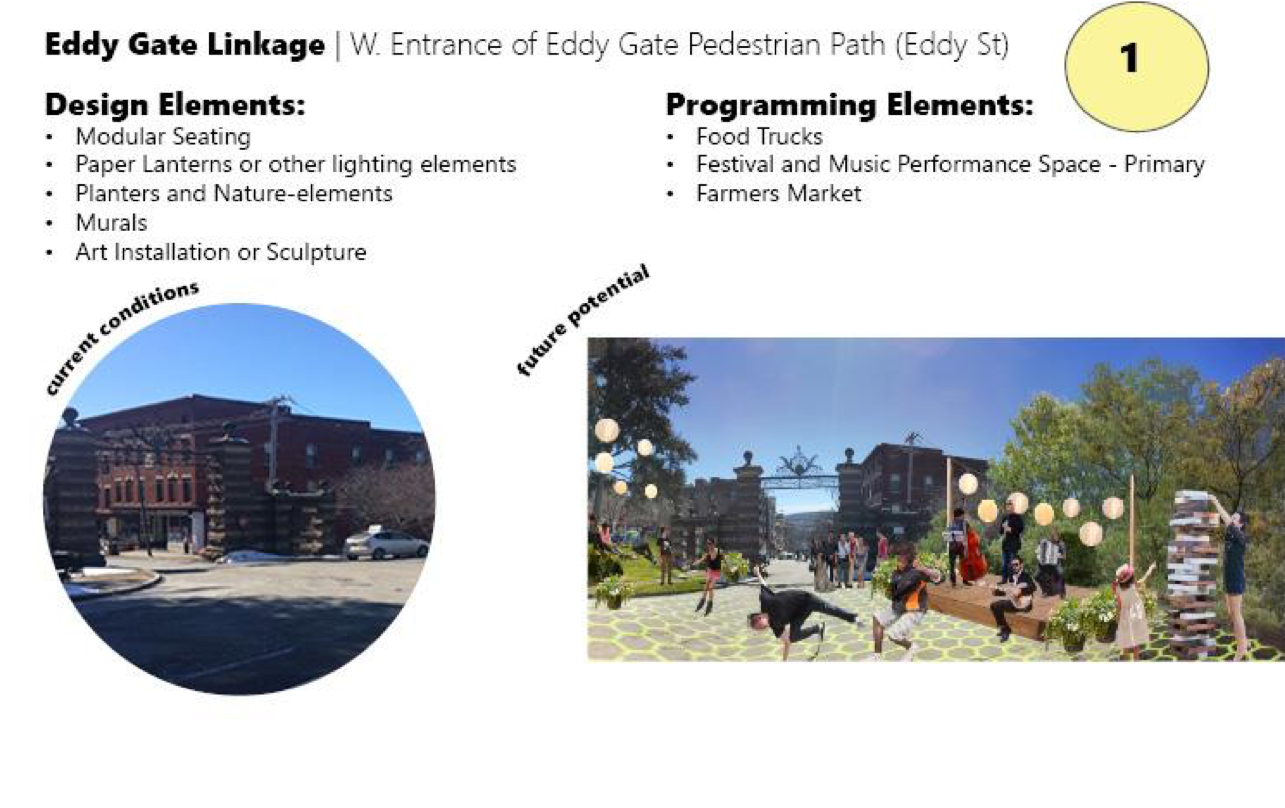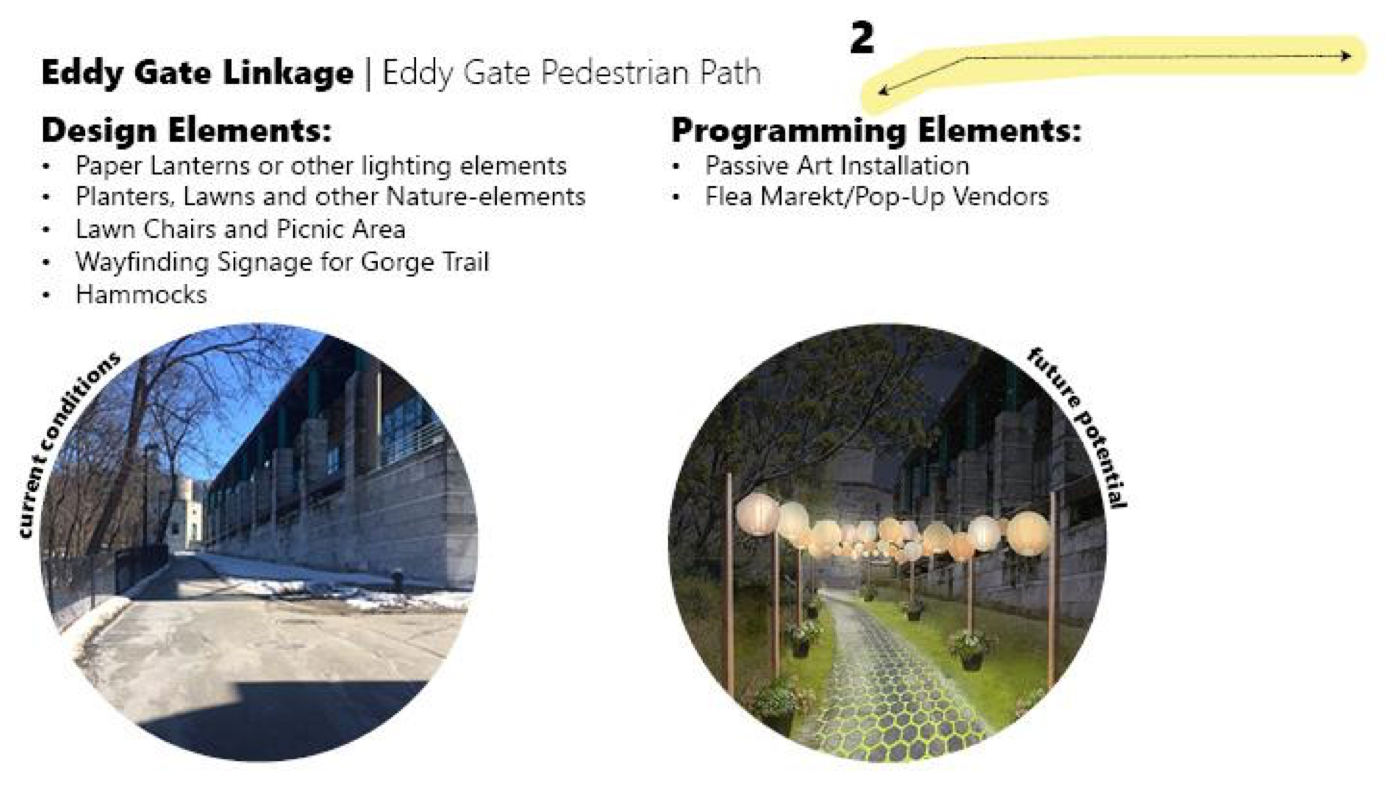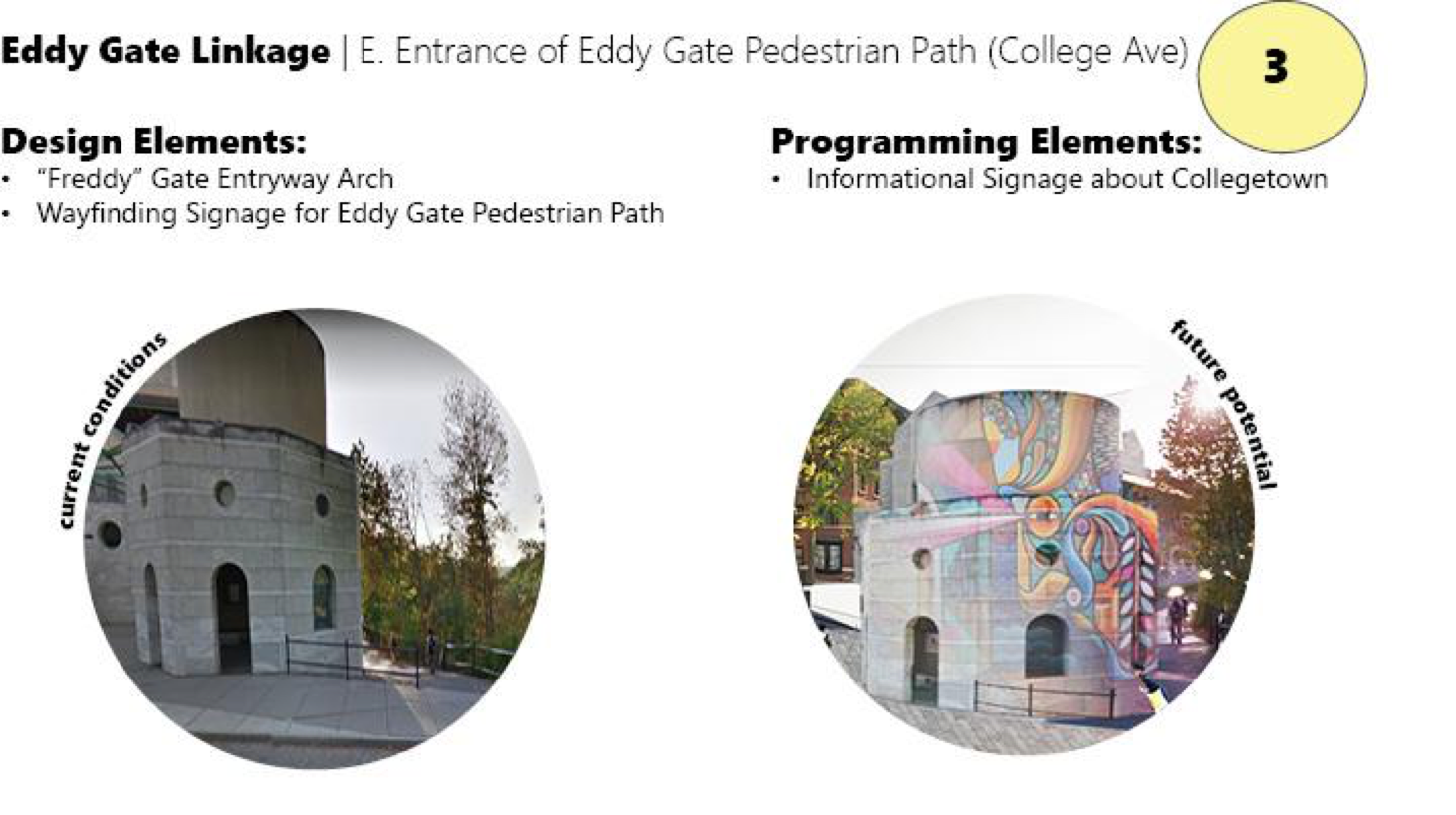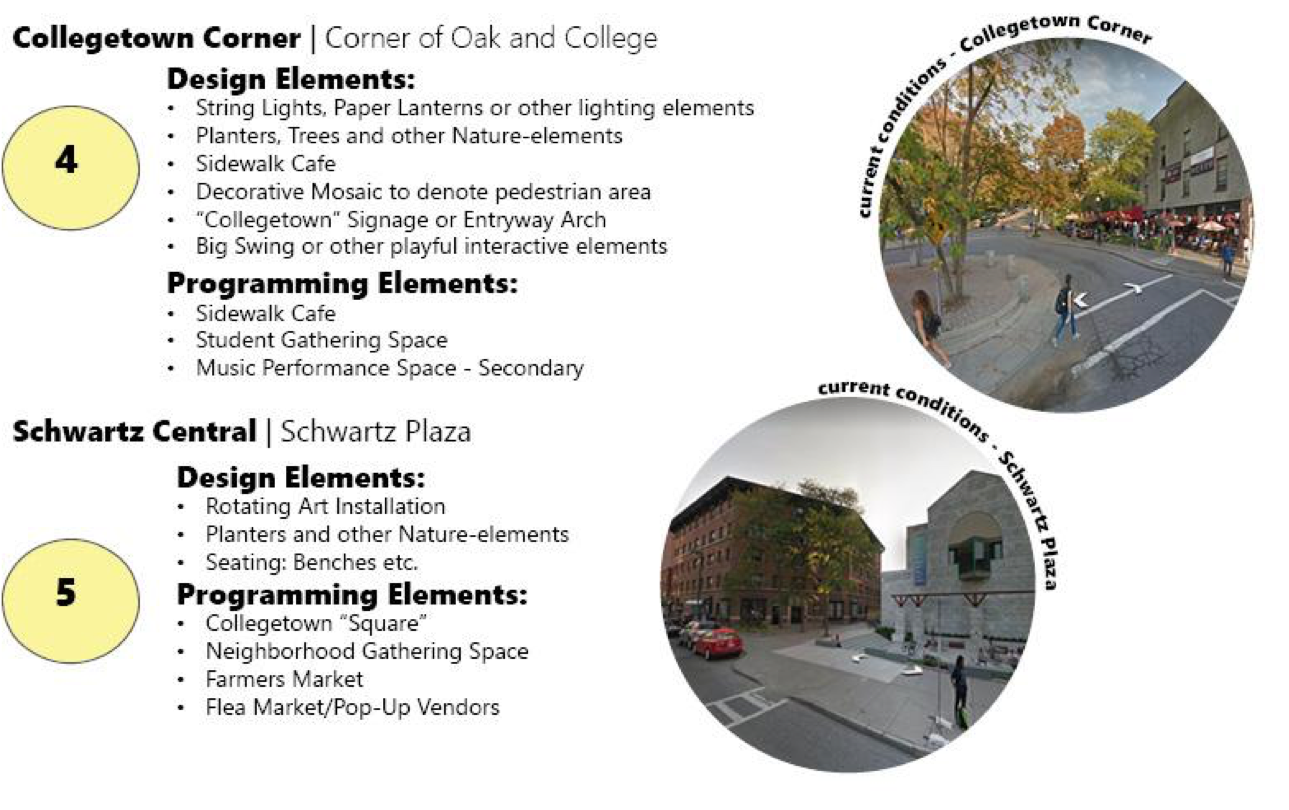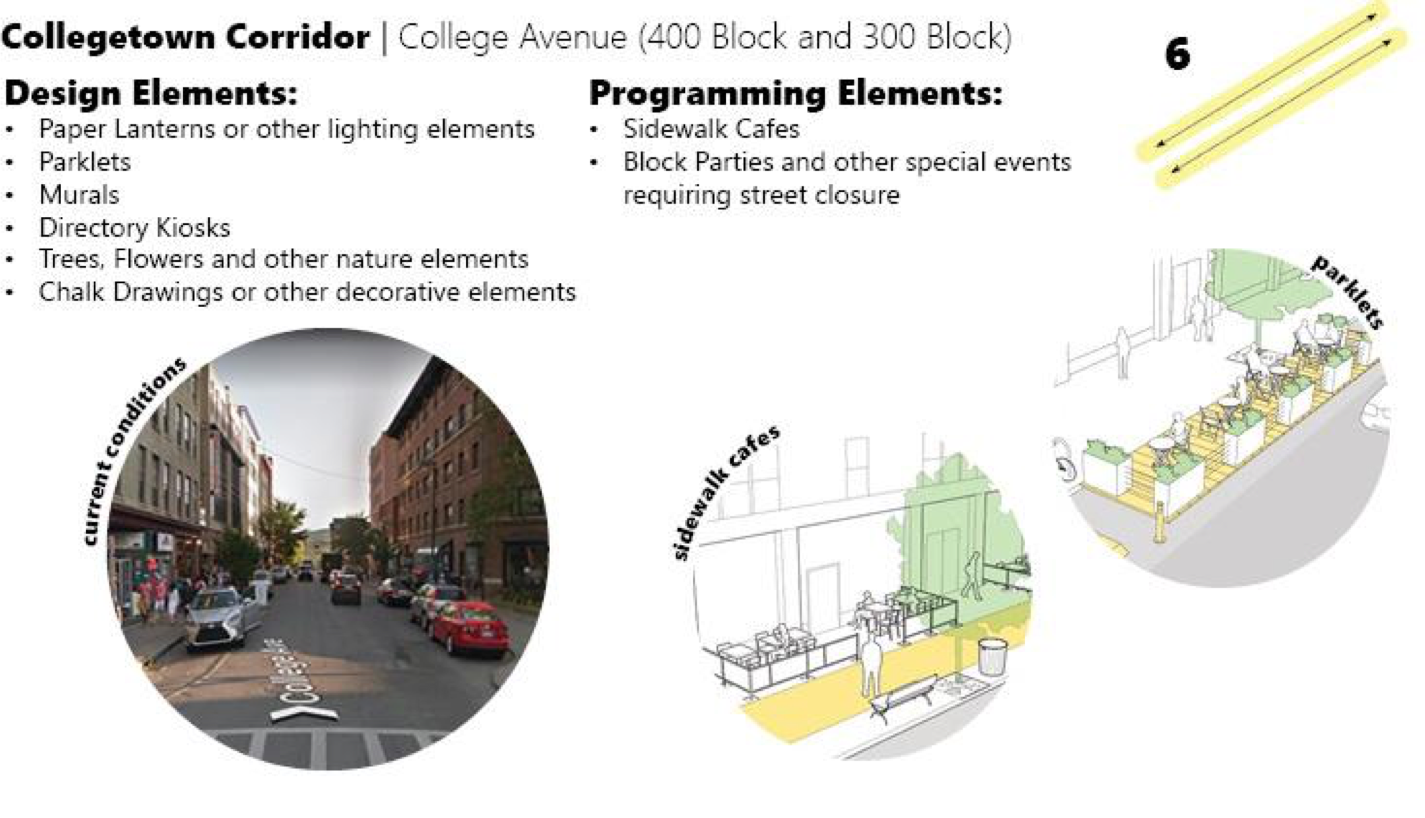 Finally, the architects in our team created a mockup showcasing our design solutions to a new mobility system in Cornell Collegetown.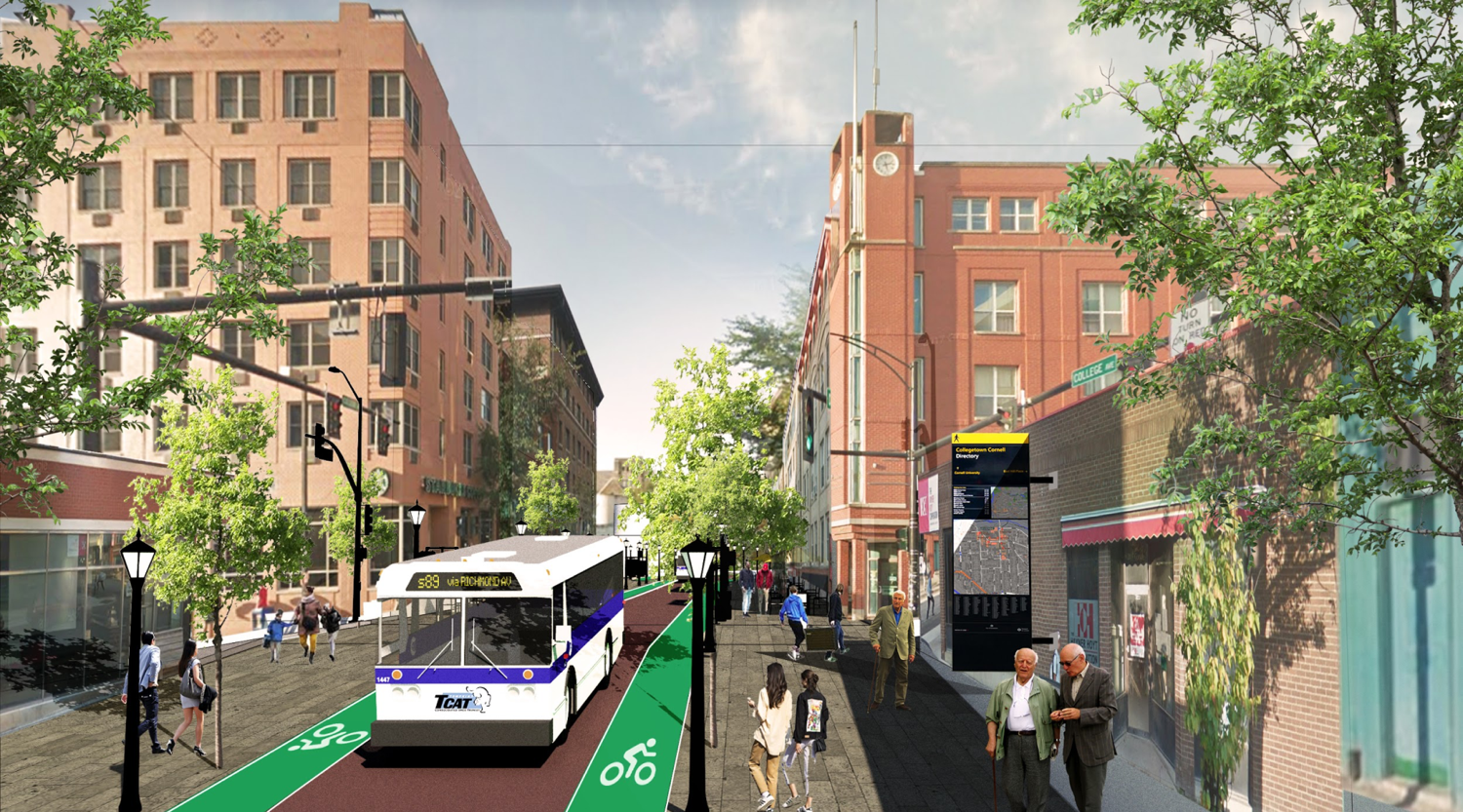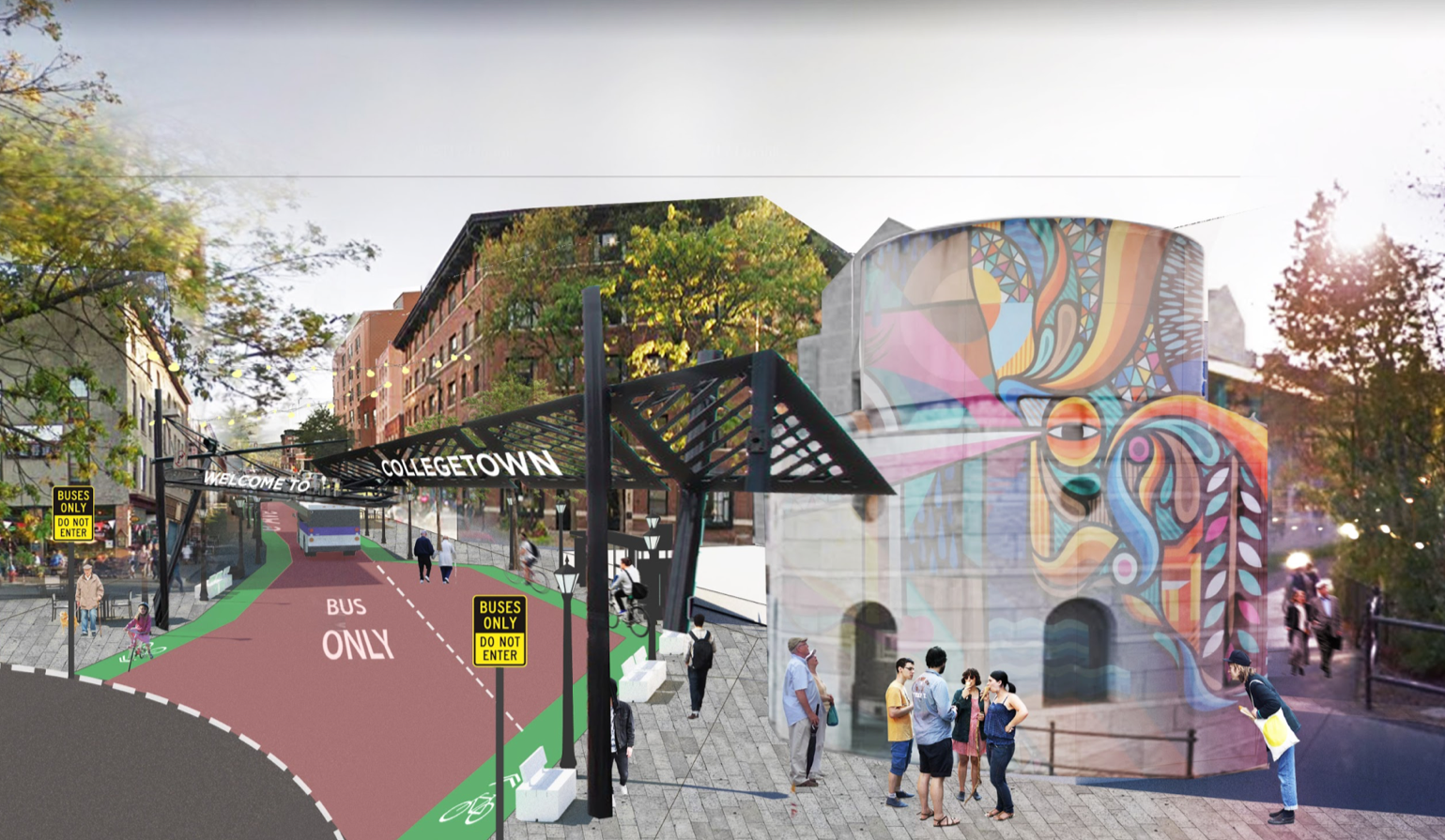 In this project, I first learned how to apply system engineering thinking with design thinking to carry out a project. And this combination surely gave us more insights and innovation during the process.
User research is extremely important in this project, where we involved users all the way through the process. I, as an UX Designer, had an original mindset that interviews and observations are the best ways and are enough to understand the users. The empathy fieldwork I learned from this project which involves first, second and third person perspectives gave me valuable insights that immersion, which require designers to immerse themselves in the user's role, also helps understand the targeted users.
I will definitely take the methods I learned from this project to create more meaningful work in the future.